From Bloomberg View:
It was always going to be tough for the world's container shipping lines -- accustomed to decade after decade of growth in the volume of video-game consoles, auto parts, furniture, frozen seafood and all manner of other things transported in boxes across the sea -- to adjust to a slowdown in global trade.

What has made it a whole lot tougher is that, not long before trade peaked as a share of global gross domestic product in 2008, container shippers began adding capacity at an even faster pace than they had before. Container traffic has actually held up better than bulk shipping (which is heavy on raw materials like iron ore) and oil tankers, with volume still growing in the low single digits annually. But capacity growth has far outstripped demand.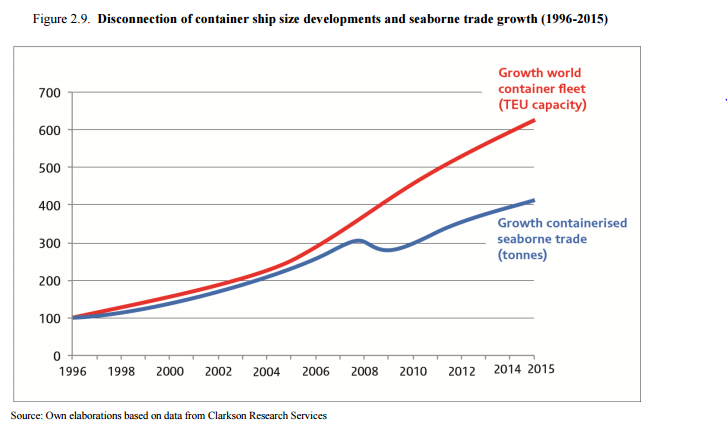 This is from a 2015 report by the Organization for Economic Cooperation and Development's International Transport Forum on "The Impact of Mega-Ships." It makes for fascinating (if pretty wonky) reading now. The gist is that the move to giant ships, with capacities now approaching 21,000 TEUs (for twenty-foot equivalent units, the standard measure of container volume), adds all sorts of costs to the global transport system that may end up outweighing the per-TEU energy and staffing savings from bigger boats. My Bloomberg View colleague Adam Minter already wrote a whole column about these problems; I'll address them briefly in a moment. But the big question for me is why shippers kept adding capacity even as demand slowed.

One answer is simply that, a decade ago, demand for container shipping seemed to be accelerating. Global container traffic grew 17 percent from 2006 to 2007, up from 11 percent the year before. Big new ships aren't built overnight, so it's understandable that the container lines did a bit of over-ordering back in those days. Still, that doesn't explain why they kept adding capacity even after that demand acceleration didn't pan out.

Another answer is that adding capacity is just what container shippers do. Here's a fun observation from a 2012 Boston Consulting Group study that urged shippers to stop adding capacity already:


Traditionally, the industry and key industry observers have measured carriers' market share on the basis of capacity rather than the freight volumes they actually transport. Therefore, carriers have typically expanded their capacity to strengthen their market position.

A final answer is that the biggest container shipping line, Copenhagen-based Maersk, thought that ordering a set of new 18,000 TEU mega-ships in 2010 could change the dynamics of the industry. In an essay published last week, Olaf Merk, ports and shipping expert at the International Transport Forum and co-author of the mega-ship report cited above, took a stab at explaining Maersk's reasoning....MORE