Front futures down 13.3 cents (4.8%), to $2.615.
From the Wall Street Journal:
Natural Gas Falls on Demand Concerns
Forecasts for the next two weeks continue to call for hot temperatures
Natural gas prices fell Tuesday to the lowest level since mid-June on concerns about weakening demand.

Natural gas for September delivery settled down 13.3 cents, or 4.8%, to $2.615 a million British thermal units, the lowest settlement since June 16.

Prices have fallen for four straight sessions. Forecasts for the next two weeks continue to call for hot temperatures, but the end of the summer is quickly approaching. Hot weather fuels more air-conditioning use, increasing consumption of gas-fired power generation.

"The natural gas market has taken a further step to the downside this morning as the updated 11-15 day temperature forecast looks somewhat cooler and less supportive than a day ago," said Tim Evans, analyst at Citigroup, in a note.

The natural gas market is oversupplied, and some analysts say that stockpiles of the fuel could rise to new records this fall, when demand for natural gas typically declines....MORE
One small quibble. The weather forecast was the 2x4 upside the head for the market but the realization the supply overhang won't start shrinking until the November withdrawals from storage begin was the proximate cause of what was just shy of panic selling this morning. Or as pointed out
on July 29
, and
reiterated Friday
:
Yesterday was the largest upmove of the year (8%) with some follow-through today:
Although we were pointing out the coming heat wave back on July 13 with "Natural Gas: 'Massive heat dome forecast to bake much of U.S. by late next week'" it took the market an extra seven days to realize how much gas would go into powering the air conditioners.

Now the thing to focus on is the fact that gas in storage is very, very high.

$2.891 last , +0.018.
Emphasis in original. Here's last week's
storage report
, above the trailing five year high despite the unusual pull for the heat wave: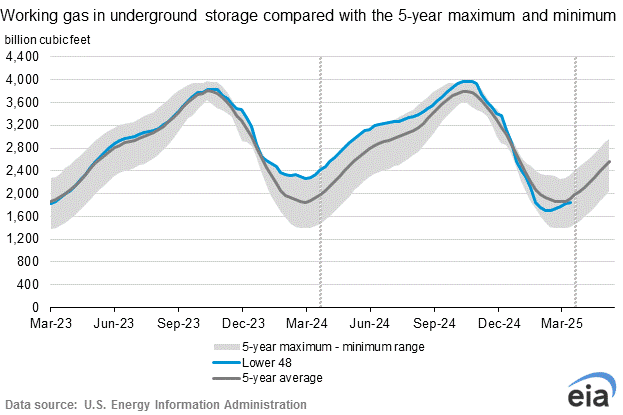 Note: The shaded area indicates the range between the historical minimum and maximum values for the weekly series from 2011 through 2015. The dashed vertical lines indicate current and year-ago weekly periods.