So there I was,
regaling long-suffering reader
with one of my Bollywood stories (yes, they are multiple):
*As I've mentioned elsewhere, I know a Pakistani guy who is addicted to Bollywood dance scenes.
Any time I visit, before we can talk business or anything else, we have to have tea while watching his latest favorite find.
A regular source of said dance scenes would do as much for my income as a new secret factor to add to Fama-French.
Maybe more.
And no, I wasn't talking about the famous battle of the pecs scene in "I":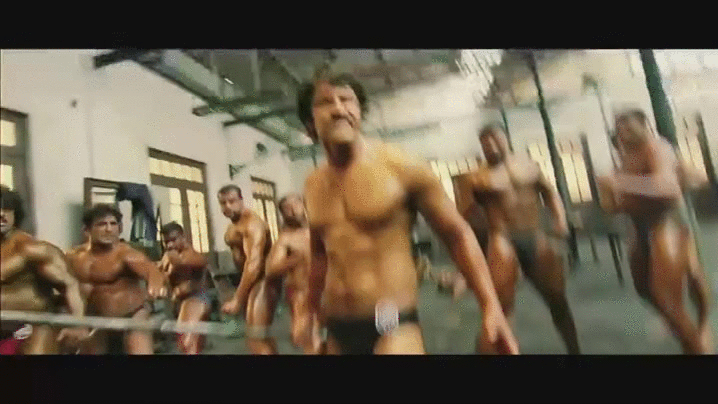 That's Tamil, not Bollywood.
And although it would probably terrify ISIS because, well, once seen, it can't be unseen.
It's not the point of this post.
And I am so sorry.
Anyhoo, two days later this pops up in one of the feedreaders, from the Daily Mirror:
What music are British special forces playing at ISIS to freak them out?
British special forces troops are "freaking out" Islamic State fighters by blasting Bollywood music at them.

The psychological warfare strategy is aimed at discrediting the extremists who claim the music is "apostasy" or un-Islamic.

They came up with the idea after a Pakistani-born army intgelligence officer with the British Army told troops Bollywood tunes would annoy ISIS.

Bollwyood tunes are often referred to as Hindi film songs as they come from northern India and are also followed in neighbouring Pakistan.

Ultra-conservative parts of predominantly Muslim Pakistan have banned it for being frivolous and un-religious.

Dozens of special forces are in Libya training local forces in how to push out ISIS, but they are there in a non-combat role, except if attacked.
The SBS is training troops in how to drive out ISIS from the town of Sirte and a 115-mile stretch of the Libyan coastline.

As part of a force known as JSOC - Joint Special Operations Command - the psychological operations unit intercepted the insurgent's communications and blasted them with Bollywood chart music.

The militants imposed Sharia law inside Sirte and banned anything western or frivolous and the Bollywood songs are seen as a huge insult.

In one incident the team - helped by Libyan troops - left two cars near checkpoints on the edge of Sirte and at dawn blasted Bollywood music by remote control through two huge speakers in the vehicles.

As well as psychologically dominating ISIS the move also discredits the gunmen with locals as it shows defiance and contempt for their regime.

And it shows their reaction time to getting to source of the music and in how much force, revealing their weak points to watching troops.

Ironically, despite being of Indian origin the music is a hit among Muslim communities in parts of Pakistan and Afghanistan - although outlawed by the Taliban....MORE
There is a history of this stuff, the most famous probably being the U.S. psychological operations troops targeting the Papal Nuncio in Panama City to drive out strongman and drug dealer Manuel Noriega who had sought refuge within.
It took ten days but he came out, playlist below.
Probably my favorite example of music as instrument of power was this kid in St. Andrews last year:
Taking Out The Hate Preacher In The Most Scots Way Possible
For folks who don't recognize the tune, it's
Scotland the Brave
, which, for some reason, pipe bands in the U.S. insist on playing on St. Patrick's day.
Back to Noriega.
From the
National Security Archive at George Washington University
here's the start of the official playlist:
(You've Got) Another Thing Coming - Judas Priest
Blue Collar Man - Styx
Danger Zone - Kenny Loggins
Dead Man's Party - Oingo Boingo
Don't Look Back - Boston
Electric Spanking of War Babies - Funkadelic
Heaven's On Fire - Kiss
If I Had A Rocket Launcher - Bruce Cockburn
In My Time of Dying - Led Zeppelin
Iron Man - Black Sabbath
Judgment Day - Whitesnake
Jungle Love - Steve Miller
No More Mister Nice Guy - Alice Cooper
Paradise City - Guns & Roses
Panama - Van Halen
Paranoid - Black Sabbath
Refugee - Tom Petty
Renegade - Styx
Run Like Hell - Pink Floyd
The Party's Over - Journey
This Means War - Joan Jett
Wanted Dead or Alive - Bon Jovi
Wanted Man - Ratt
War Pigs - Black Sabbath
We're Not Gonna Take It - Twisted Sister
You Shook Me All Night Long - AC/DC
Your Time is Gonna Come - Led Zeppelin
And
many
more
.