WTI up 16 cents at $41.92 after trading as low as $40.84.
In addition there is talk of the U.S. using 10 million barrels/day of gasoline this summer despite price increases from last winter.
I guess we'll get to revisit the elasticity of demand statistics/studies.
Something to look forward to.
From Bloomberg:
IEA Sees Oil Oversupply Almost Gone in Second Half on Shale Drop
Surplus to dwindle to 200,000 barrels a day from 1.5 million
Iran's return to global market impeded by financial obstacles
Global oil markets will "move close to balance" in the second half of the year as lower prices take their toll on production outside OPEC, the International Energy Agency said.

The world surplus will diminish to 200,000 barrels a day in the last six months of the year from 1.5 million in the first half, the agency said in a report on Thursday. Production outside the Organization of Petroleum Exporting Countries will decline by the most since 1992 as the U.S. shale oil boom falters. The glut is also being tempered as Iran restores exports only gradually with financial barriers to sales persisting even after the lifting of international sanctions.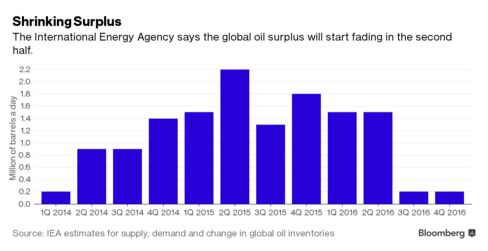 "There is no doubt as to the direction of travel for the supply-demand balance," the Paris-based adviser to industrialized nations said. "There are signs that the much-anticipated slide in production of light, tight oil in the U.S. is gathering pace."

Oil prices, which sank to 12-year lows in January amid a global surplus, have climbed 30 percent in the past two months as OPEC and Russia work on a plan to limit their crude production. Still, without any proposal to reduce supply, there will be little real impact from the accord, due to be finalized in Doha this weekend, the IEA said. Brent crude futures traded near $43 a barrel on Thursday, close to a four-month high....MORE