We like Matt.
When he was helping to run the WSJ's MarketBeat blog back in 2010 we highlighted some of his Bulwer-Lyttonesque stylings with an award of the prestigious Climateer Line of the Day for what has become one of our fave bits o'financial journalism:
"Like a rottweiler on a slightly undercooked leg of lamb, MarketBeat refuses to let go of its probe of the depths of Thursday's Flash Crash, particularly the momentary trades that priced ostensibly healthy companies such as Accenture at one cent...."
Of all the inventions US chemical giant DuPont has given the world—Lycra, Teflon, Kevlar, Freon, Lucite, Nylon, and so on—perhaps none has been more influential than the one it developed that is now at the core of nearly every major company on the planet: Return on investment.

The fact that DuPont pre-dates such a core corporate concept underscores just how central the Delaware-based company—which was founded in 1802 as a gunpowder manufacturer and is, per the Wall Street Journal, currently in advanced merger talks with Dow Chemical—has been to the development of industry in the US and beyond.

It was a DuPont explosives salesman by the name of Donaldson Brown who in 1912 submitted an internal efficiency report to his superiors that used a version of the return-on-investment formula—still known as the DuPont formula—that eventually came to be embedded as one of the defining statistical metrics in the corporate world.

To modern worker drones, the development of ROI—which gauges the earnings power of a company's assets—might not seem like such a moment to celebrate.

But it was an important development in the evolution of business away from family-controlled companies—where the only measures of success were crude measures of sales and costs or, just as often, the arbitrary opinions of autocratic relatives—and toward the model of the modern corporation staffed with professional managers. This new class of managers embraced scientific and statistical techniques to allow analysis of increasingly far-flung and dissimilar business units.

Brown's mentor, Pierre du Pont, was one of the first executives that we would recognize as a chief financial officer in the modern sense, and he encouraged those in his department, including Brown, to measure performance in sophisticated new ways.

When DuPont bought a huge stake in General Motors in the 1920s, Brown—and his return-on-investment analysis—made the jump to GM as its CFO, where his techniques became enmeshed with American management pioneer, Alfred Sloan, who was then the automaker's chief executive....MORE
I always thought the company's most enduring legacy would be the houses of the family and top non-family execs.
Here's Nemours: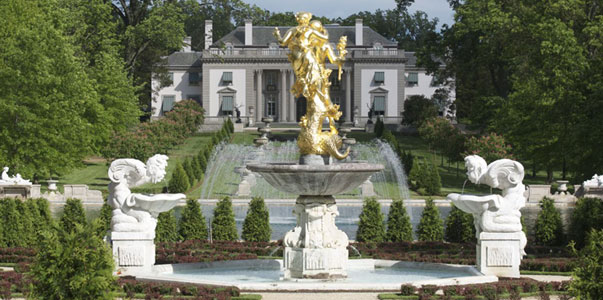 And John Jacob Raskobs Irisbrook:
The E.I. DuPont shack overlooking the original powdermill which kept blowing up, necessitating a large hoard of glass for the windows:
Here's Alfred's Blue Bell dairy barn:
And the original facade of what became Henry Francis' Winterthur via
BigOldHouses
:
Even the model of the building is impressive: