First up, the background from the Wall Street Journal, October 25:

Health-Insurance Inflation Is Poised to Drop Sharply
The subindex of the consumer-price index is about to turn from a driver of inflation into a deflationary drag
Health insurance has put upward pressure on the main measure of inflation, but is now swinging into reverse. This swing will act as a much-needed, albeit small, drag on inflation currently running at four-decade highs, economists say.

"With the magnitude of each forthcoming Fed hike this year hanging heavily on the latest consumer-price index print, the swing in healthcare insurance's steady contribution could help provide the 'compelling evidence' of inflation slowing on a consistent basis that the FOMC is looking for to ease up on its current pace of tightening," Sarah House, senior economist at Wells Fargo said in an email, referring to the Federal Open Market Committee.

However, this swing—the result of a methodological quirk—might be offset by broader price pressures building in medical services as labor costs climb.

Health insurance has contributed significantly to the sharp rise in core inflation, which strips out volatile food and energy prices, to 6.6% in September from 6.3% in August and 5.9% in July. Health-insurance prices rose 28.2% from a year earlier in September, the sharpest increase in the history of the index going back to 2006, as measured by the Labor Department's consumer-price index. That added just less than 0.4 percentage point to September's rise in core CPI.

But that will morph into a deflationary drag with October's CPI, to be released on Nov. 10, as the Labor Department updates the health-insurance index's data, an effect that will last for the next 12 months.

Omair Sharif, founder of Inflation Insights LLC, estimated the health-insurance index will decline 38% by September of next year from this past September. That would mean health insurance would go from adding around 0.38 percentage point to the 12-month increase in core inflation as of last month, to subtracting about 0.42 percentage point by next September, Mr. Sharif said.

The change to the one-month rate that shows up in October will continue at a fairly consistent pace for the next 11 months. "When we establish that new trend, this trend is likely to persist for a full year," said Ryan Wang, U.S. economist at HSBC. "That's one of the aspects of this methodological quirk."....
....MUCH MORE
And from Wolf Street, November 10 (the day of the CPI release):

Services Inflation Spiked to Second Highest in 4 Decades, Would Have Spiked to Highest, If Not Slowed by Biggest-Ever Mega-Adjustment of Health Insurance CPI
But there won't be an adjustment for the Fed-favored "core PCE" price index that will come out before the next Fed meeting.
Let's just start with inflation in services today because nearly two-thirds of consumer spending ends up in services, so this is the biggie. And some extra-special stuff happened in the CPI for services in October. What would come today was discussed over the past weeks in the Wall Street Journal and elsewhere, and it wasn't a surprise: a massive mega-adjustment by the Bureau of Labor Statistics in the CPI for health insurance. And today it came.

Everyone knows that the costs of health insurance didn't plunge in October from September. But because of the periodic adjustment, the CPI for health insurance plunged 4.0% in October from September, a 6.1 percentage-point swing from September (+2.1%), according to data from the Bureau of Labor Statistics today. This was by far the biggest month-to-month plunge in the BLS data going back to 2005, and far outstripped the adjustments in prior periods: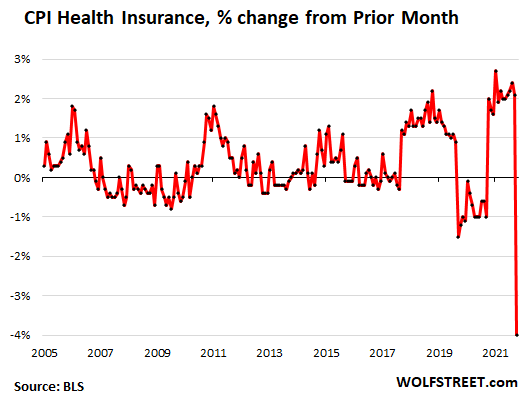 The CPI for health insurance accounts for 0.9% in overall CPI and for 1.1% in the Core CPI. And the plunge today pushed down the overall index, and even more the core CPI and the services CPI....
....MUCH MORE

The market's reaction to the CPI print, thousands of points of upside on the Dow Joneses brings to mind this snappy bit of commentary from last week:

People who are calling for the Fed to pause rate hikes because inflation went down a tick, are the same people who head back to the buffet to celebrate losing 1 pound.

— The Maverick of Wall Street (@TheMaverickWS) November 17, 2022