As the strong dollar wreaks havoc on emerging market currencies they will say no to the dollar.
Today's story follows on March 23's "Ghana Looking For Trade Settlement In Yuan"
From Reuters, November 24:

Ghana's government is working on a new policy to buy oil products with gold rather than U.S. dollar reserves, Vice-President Mahamudu Bawumia said on Facebook on Thursday.

The move is meant to tackle dwindling foreign currency reserves coupled with demand for dollars by oil importers, which is weakening the local cedi and increasing living costs.

Ghana's Gross International Reserves stood at around $6.6 billion at the end of September 2022, equating to less than three months of imports cover. That is down from around $9.7 billion at the end of last year, according to the government.

If implemented as planned for the first quarter of 2023, the new policy "will fundamentally change our balance of payments and significantly reduce the persistent depreciation of our currency," Bawumia said.....
....MUCH MORE
And from Bloomberg, November 25:
Gold Miners Ordered to Sell 20% of Refined Bullion to Ghana
Ghana will buy gold from companies in domestic currency

Cedi dropped 57% this year, making it world's worst performer

Ghana, Africa's second-largest gold producer, ordered large mining companies to sell 20% of the metal they refine to the nation's central bank, as the government embarks on a plan to barter bullion for fuel.

The directive will be effective Jan. 1, Minister for Lands and Natural Resources Samuel Jinapor said in a notice posted on Vice President Mahamudu Bawumia's Facebook page. The government also ordered small-scale miners to sell their gold to the state-owned Precious Minerals Marketing Co. Bawumia said on Thursday the government was planning to use bullion to buy fuel.

From bartering gold to a plan to ask international bondholders to accept losses on the principal, Ghana's government is scrambling to find ways to stem a slide in the cedi and make way for a bailout by the International Monetary Fund. The West African nation has been buying gold from mining companies since last year. The latest move ramps up the purchases....
....MUCH MORE
And from the post immediately below, "Megalopolis: how coastal west Africa will shape the coming century":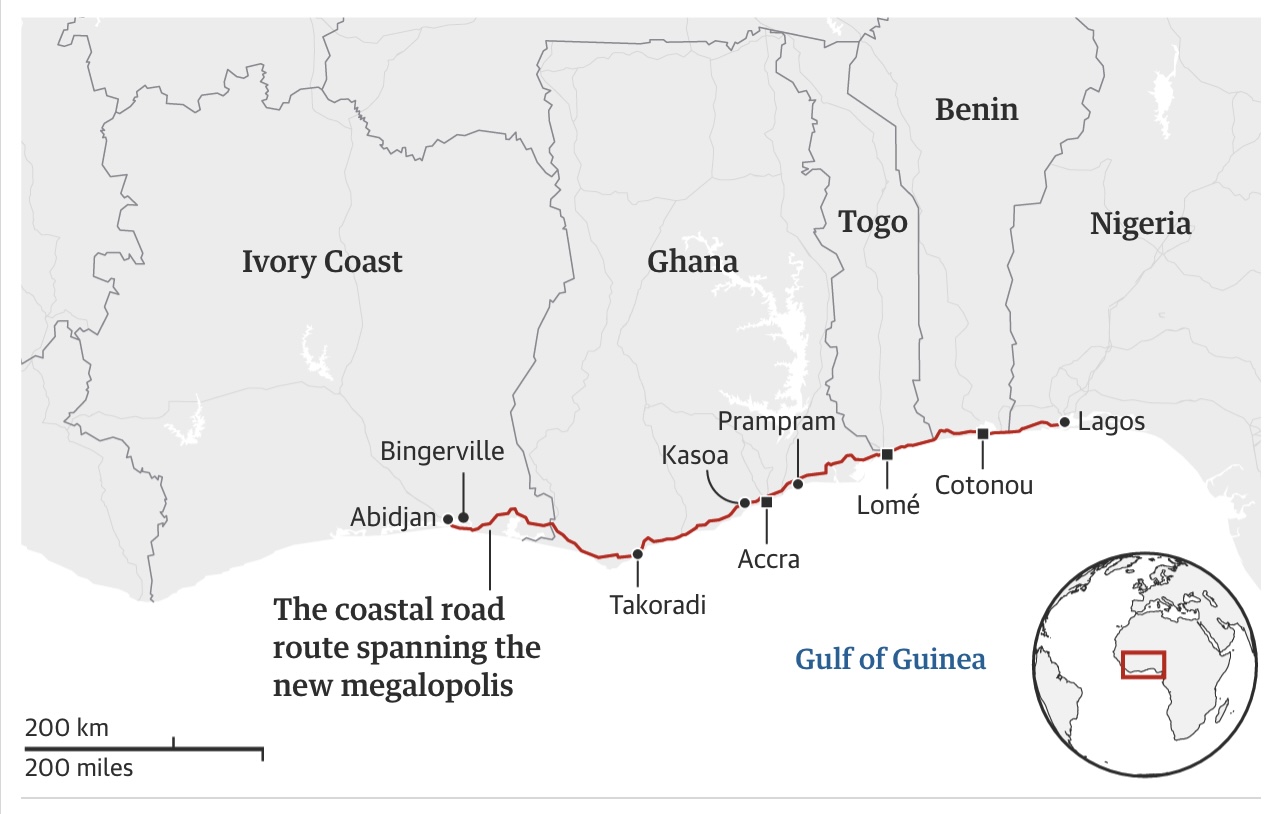 Accra is right in the middle of the 600-mile stretch of hypergrowth megacities.