A quick note on terminology for normal people who don't obsess about this stuff:

ENSO = the El Niño/Southern Oscillation
ENSO Neutral = the ocean surface temperature anomaly in the ENSO 3.4 region is between +0.5

°C and -0.5

°C.
El

Niño/La

Niña conditions exist when the anomaly is greater than (

Niño) or less than (

Niña) the half-degree cut-off for neutral.
A full blown El

Niño/La

Niña is declared when the conditions persist for three overlapping three-month periods i.e. five consecutive months.
Here's the most recent (April 19, 2021) plume of the model run ENSO forecasts from IRI/Columbia: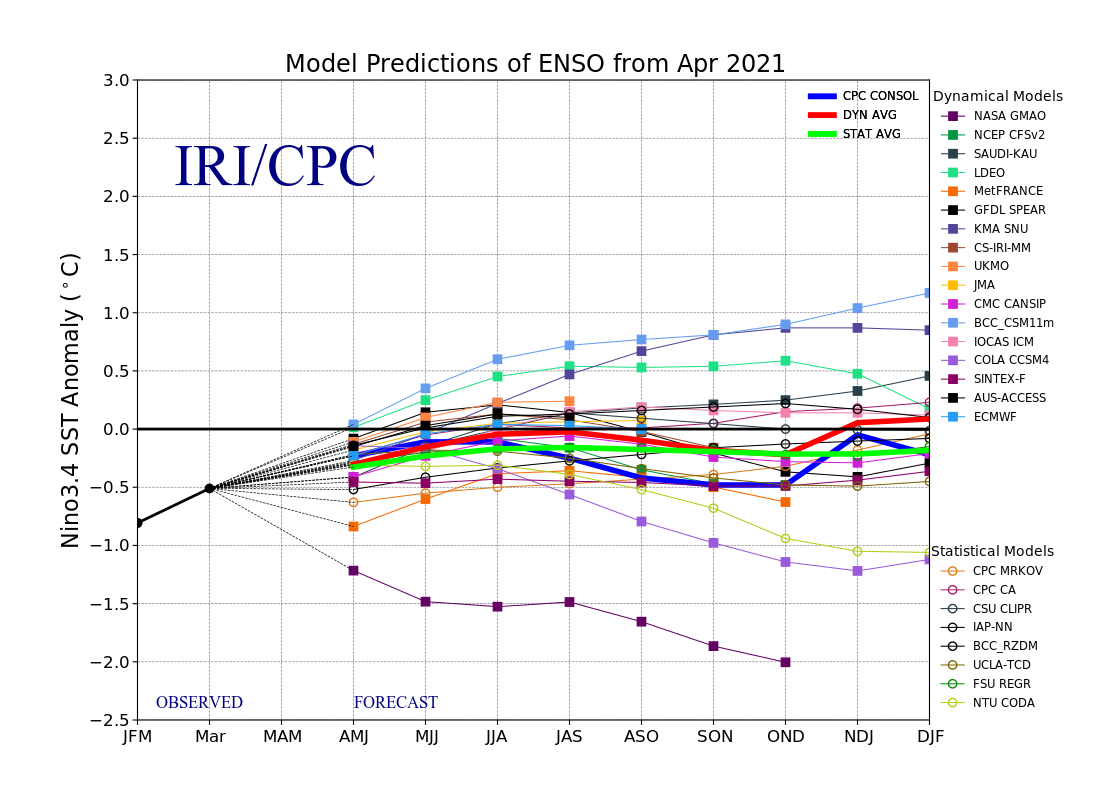 Following the NOAA Climate Prediction Center consolidated forecast (heavy blue line) La Niña conditions will be meandering to ENSO-neutral but then head back toward a possible full-blown La Niña right in the gut of the hurricane season (average peak = September 10)

From Artemis:
Two more 2021 Atlantic hurricane season forecasts from teams that we track here at Artemis have now been published and both echo other forecast teams we've already covered, in calling for this year to see hurricane activity above both the long and near-term averages.

Hurricane season is now fast-approaching for the insurance, reinsurance and insurance-linked securities (ILS) industry and with every forecast release it becomes clearer there is a strong chance of another year that keeps the market on its toes from June through November.

First, the Weather Company, a meteorology specialist unit of tech firm IBM, which has called for 18 named storms, 8 hurricanes and 3 major hurricanes with Category 3 or greater winds, to form during the 2021 season in the Atlantic basin.

However, while an above-average season is predicted in these numbers, the Weather Company does not believe conditions are conducive for a repeat of the hyperactive levels of storm formation and landfalls we saw in the 2020 Atlantic hurricane season.

"While there is upside to the season, we expect nothing approaching last year's activity," Dr. Todd Crawford, chief meteorologist at The Weather Company explained.

Like most other forecasters, one of the potential catalysts for a more active hurricane season this year is the fact that while La Niña may be fading, its influence on the atmosphere may not fade in time for hurricane season, the Weather Company said.

Crawford highlighted, "There is still a nice big batch of anomalously warm water near Indonesia that continues to drive the tropical base state signal."

Even if the La Nina itself fizzles out, the Weather Company believes that conditions may still drive the kind of Atlantic season we'd expect during a La Nina year, given the transition away from it to ENSO neutral or El Nino is expected to be a slow one....
....MUCH MORE