From High North News:
The world's largest oil company Saudi Aramco aims to acquire large stake in Novatek's Arctic LNG 2 project. Large Russian energy developments supported by China and now likely Saudi Arabia will continue to impact Norway.
Ongoing discussions between Novatek, Russia's largest privately-owned natural gas company, and Saudi Aramco, the world's largest oil company, for cooperation on the new Arctic LNG 2 project are expected to conclude in the coming months. Novatek is considering the sale of up to a 30 percent stake in its latest Arctic venture, "if the terms are favorable,"
explains the company's CEO Leonid Mikhelson
.
Previous
reports indicated that Saudi Aramco was interested
in investing up to USD 5 billion in the Arctic LNG 2 venture, Novatek's second and largest project to produce LNG in the Arctic and export it via the Northern Sea Route. The project is scheduled for commissioning in 2022-2023 and will deliver 19.8 million tons of LNG annually.

The company's first project, Yamal LNG, came online in December 2017 and has since delivered more than 10 million tons of LNG to markets in Europe and Asia.
While Russian Arctic developments may appear remote, their economic and potentially environmental impact can be felt beyond the region. A significant share of Russian LNG
passes through Norwegian waters during the winter months
when up to 300 large LNG carriers operate in the waters of Honningsvåg to transfer gas from ice-capable ships to regular LNG tankers. Russia Arctic crude oil also passes along Norway's coastal waters.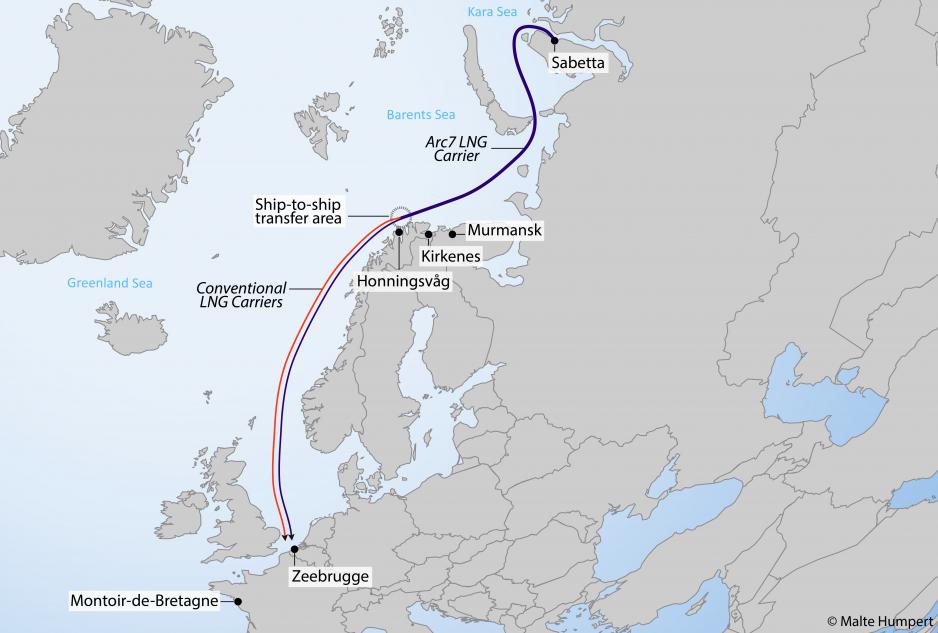 Growing cooperation between Russia and Saudi Arabia...
...
MUCH MORE
As noted in the introduction to October 2018's
"Saudi Aramco wants to buy 30% of Novatek's Arctic LNG-2"
:
Back in December 2017, at the opening of Russia's Yamal LNG operation the Saudis sent Energy Minister Khalid al-Falih to represent the Kingdom. President Putin told him "Buy our gas and you'll save oil".
We caught up to the story in early February with the passage of Teekay's Eduard Toll across the Northern Sea Route.
Although sometimes slow to grasp what's up, we did have the sense to note the commencement of the Novatek operation was "a pretty big deal."
No kidding.

Here's The Barents Observer, October 26 with the rest of the story:...