We'll be looking at possible futures for battery technology later in the year but for the nonce the far-and-away tech of choice is lithium ion which means cobalt, albeit in decreasing amounts as the big manufacturers tweak their recipes.
And for today (actually Aug 22) we have Bloomberg weighing in on the physical commodity front:
Hunt for Next Electric-Car Commodity Quickens as Prices Soar
Cobalt demand expected to increase 34% a year through 2026

Top copper miner Chile looking to restart cobalt production
Niche metal cobalt is leaving bigger names like copper and lithium in its dust, triggering a hunt for new deposits from Idaho to Chile.

As one of the key components in the new breed of rechargeable batteries and with supply dominated by the Democratic Republic of Congo, prices have surged at four times the pace of major metals in the past year. That's caught the attention of governments, explorers and money managers, with annual demand set to increase 34 percent until 2026 as electric cars gain a bigger share of the global auto fleet, according to CRU Group.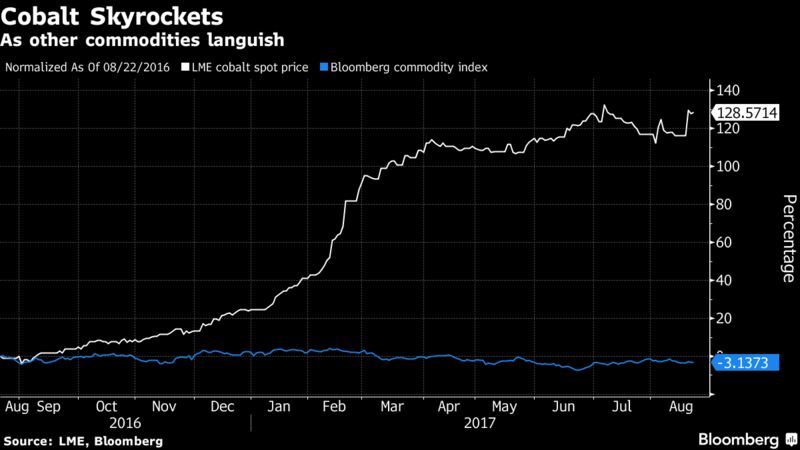 Authorities in Chile, the top copper-producing nation, are embarking on a fact-finding mission with a view to restart cobalt production after a more than seven-decade hiatus. First Cobalt Corp. is merging with two other firms to create what it calls the world's largest explorer of the mineral. A bet on the cobalt industry has helped make a Commodity Capital fund the best performer in the commodities market, while legendary Australian prospector Mark Creasy has cobalt on his latest list of targets.
"Cobalt is the next big thing," Commodity Capital co-founder Dana Kallasch said by telephone on Tuesday. The firm's Global Mining Fund has returned about 70 percent this year, beating 213 peers, according to data compiled by Bloomberg.

The mineral once used to dye pottery dark blue is now in demand from car and phone makers from Tesla Inc. to Apple Inc.

More than half of global production comes from Congo. The African country produced 66,000 tons last year, compared with 7,700 in China, the second-biggest producer. In Congo, cobalt is mined mostly informally in precarious conditions that sometimes involve child labor.

"We are seeing companies being more careful about where cobalt comes from and asking for providers to have the right paperwork," Rebecca Gordon, head of technology metals at CRU Group, said by telephone from London. "But there's not much happening elsewhere."

The cobalt market is in a 5,500-ton deficit, according to CRU, with global supply contracting 3.9 percent in 2016. Glencore Plc.-owned Katanga's whole ore leach and Eurasian Resources Group's roan tailings reclamation projects -- both ramping up this year in Congo -- should help ease the deficit. Rising prices are encouraging operators in Asia and elsewhere to produce cobalt as a byproduct of other metals such as nickel and copper.

Chile also wants to get in on the act. Development agency Corfo met with companies including Samsung SDI and Umicore SA in Europe during a recent roadshow on lithium, another key component of electric-car batteries. Some made inquiries about Chilean cobalt, Eduardo Bitran, executive vice president of Corfo, said an interview Monday....MORE
Prior posts:
Aug. 3
Batteries: Manufacturers Are Reducing the Amount of Cobalt Used In Electric Vehicles
July 5
"Psst...wanna buy some cobalt? Just don't tell the auto guys!" (KBLT: Canadian venture exchange)
June 29
The Cobalt Trade Worked Out, On To Ruthenium
Feb. 2017
"Electric-car makers on battery alert as hedge funds stockpile cobalt"
May 2016
Why the CIA Reads The Financial Times (and you should too) Tesla and Cobalt
A couple weeks ago we posted a seemingly innocuous piece with a boring headline: "'Freeport Sinks On Sale of Africa Copper Mine To Chinese' (FCX; LUN.TO)".
I figured there were at best two thousand people in the whole world who knew or cared about the back story and real import of what was going on so I'd just drop it as an Easter egg for the cognoscenti and other assorted electric vehicle/conflict mineral/African warlord/Elon Musk/extractive industry/Génocidaire hunter/U.S. political corruption watchers to find.
Well now that cat's out of the bag.
Big kudos to the FT's Henry Sanderson for recognizing one hell of a story and a small request for the Financial Times: Can you tell us what the old ENRC is up to these days?
From The Financial Times, May 25:
China plays long game on cobalt and electric batteries...

.
May 2016
"Freeport Sinks On Sale of Africa Copper Mine To Chinese" (FCX; LUN.TO)
Sept. 2016
DR Congo's State Mining Company Submitted An Offer to Buy Freeport McMoRan's Stake In Tenke Fungurume Copper, Cobalt Mine (FCX; LUN.to
)
Sept. 2016
Lundin Mining Granted Second Extension To Bid For Giant DR Congo Cobalt/Copper Mine
So waddya think?
Is Tesla going to stick with current battery technology and use cobalt or will one of the competing approaches prove so superior that the value of Tenke Fungurume falls 60%.

Follow one road and all Europe may be free and the life of the world may move forward into broad, sunlit uplands. But if we fail, then the whole world, including the United States, including all that we have known and cared for, will sink into the abyss of a new Dark Age made more sinister, and perhaps more protracted, by the lights of perverted science.

No pressure.
And no idea why Churchill is showing up in the intro to a mining story.

It may be as simple as always thinking it would be nice to walk into the Monday morning meeting and, just once, have someone acknowledge last week's performance with "This was their finest hour".
Just once....