What the Hell?
At $186 the guy
says Tesla is going to $100
, it's at $281.
At $119 he says NVIDIA is going to $90 gets the initial drop and chickens out. Today the stock is at $108.
He says he's
switching the short from NVIDIA to Mobileye
with a $35 target.
17 days later MBLY agrees to be acquired by Intel at $63.54.
And here's the best of the bunch.
From Bloomberg, June 2, 2016:
Chemours Rebounds From Selloff Sparked by Citron Short Call
Citron's Left sees company as 'bankruptcy waiting to happen'

Chemours on hook for liabilities in Teflon chemicals lawsuits
Chemours Co., the titanium-dioxide pigment maker spun off from DuPont Co., staged a late rally to rebound from the biggest drop in almost five months sparked by a Citron Research report calling the company "a bankruptcy waiting to happen."

The shares closed higher by 0.7 percent at $8.86, rallying from a loss of as much as 15 percent as investors assessed the short seller's report. A Citigroup Inc. research note suggested it contained nothing factually new.

In the spinoff, Chemours assumed DuPont's liabilities including 3,500 lawsuits from people living near a Teflon plant in Parkersburg, West Virginia, who claim they were harmed by PFOA, also known as C-8, a chemical used to make non-stick coatings and stain-resistant fabrics. DuPont was found liable for a woman's kidney cancer in the first trial, and another began this week.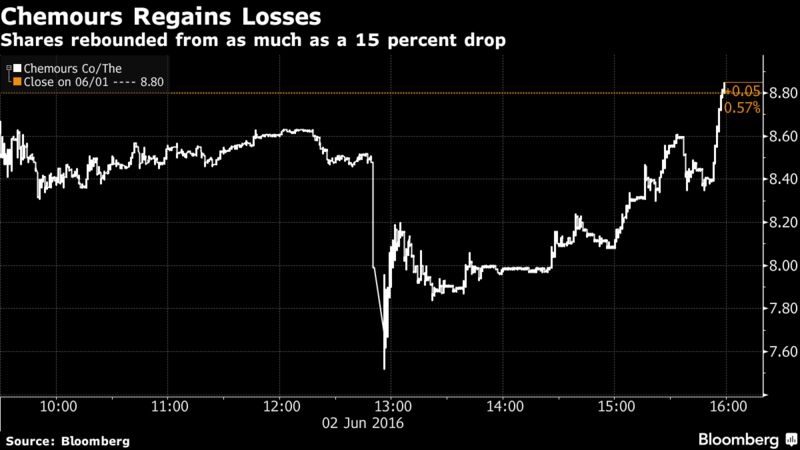 Chemours may face more than $5 billion in PFOA liabilities, 10 times as much as some analysts estimate, given the costs of medical monitoring, cleanup, compensatory and punitive damages and legal fees, Citron said in its report. The company is likely to go bankrupt within 18 months, according to the report.

"It's serious. It's going to zero," Andrew Left, owner of Citron, said in a telephone interview. "I don't care when it goes to zero but the entity goes to zero....MORE
The stock was trading at $8.50 before he announced. Ten months later it's at $37.31:
Seriously, what the hell?
HT that this was an Andrew Left trade: Barron's Stocks to Watch:
Chemours: What Do You Do After a Stock Quadruples? Upgrade It, Of Course!