The Nation is the oldest Progressive, and in fact the oldest period, magazine in the U.S..
From The Nation, October 5:
The billionaire's pandemic investments, like much of his work, remain a secret.
I

n the early days of the pandemic, President Trump made headlines when he reportedly tried to secure rights to a vaccine from German developer CureVac on behalf of the US government—a move that stirred questions about equity and justice. Should the United States get priority access to the Covid vaccine just because we are the world's wealthiest nation? Shouldn't the most vulnerable—no matter their nationality or salary—get vaccinated first?
"Capitalism has its limits," one German lawmaker noted in a widely reported tweet.
Had Trump succeeded, the deal might also have sent another stark message about economic inequality—delivering a financial windfall to one of the most moneyed players in the pandemic response: the Gates Foundation.

The foundation recently reported a $40 million stake in CureVac—one of dozens of investments the foundation reports having in companies working on Covid vaccines, therapeutics, diagnostics or manufacturing, according to The Nation's analysis of the foundation's most recent tax return, web site, and various SEC filings. The foundation has also announced that it will "leverage a portion of its $2.5 billion Strategic Investment Fund" to advance its work on Covid.

These investments, amounting to more than $250 million, show that the world's most visible charity, and one of the world's most influential voices in the pandemic response, is in a position to potentially reap considerable financial gains from the Covid-19 pandemic.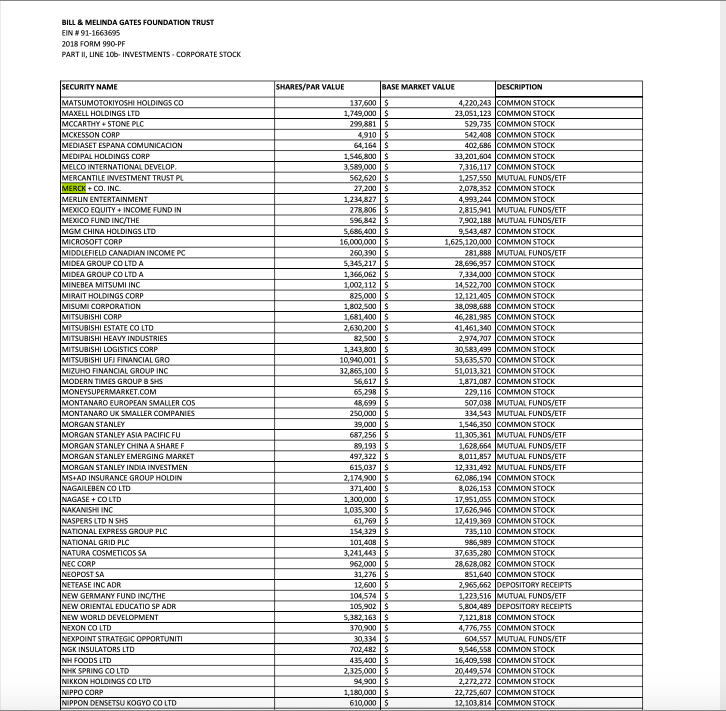 Recent SEC filings and the foundation's website and most recent tax filings show more than $250
million invested in dozens of companies working on Covid vaccines, therapeutics, diagnostics, and
manufacturing. These investments put the foundation in a position to potentially financially gain from the pandemic.
Gates's reported investment in CureVac, alone, may have already delivered tens of millions of dollars in shareholder value for the nonprofit Gates Foundation. Even though Trump's bid for CureVac failed, the company's stock skyrocketed 400 percent just two days after going public in August.
Revelations of the Gates Foundation's financial stake in Covid-19, which Bill Gates does not appear to have publicly disclosed in dozens of recent media appearances, speak to broader criticisms about the lack of transparency in the foundation's increasingly central role in the pandemic.

"Who are they accountable to? They don't even have a governance structure that's clear," notes Kate Elder, senior vaccines policy adviser to Doctors Without Borders. "Increasingly, I see less information coming from the Gates Foundation. They don't answer most of our questions. They don't make their technical staff available for discussions with us when we're trying to learn more about their technical strategy [on Covid] and how they're prioritizing certain things."
And Gates's priorities in developing and distributing a Covid vaccine, Elder says, are increasingly the world's priorities, as multilateral institutions like the World Health Organization have ceded leadership to a group of public-private partnerships where Gates provides key funding. These organizations, the Coalition for Epidemic Preparedness Innovations and Gavi, the Vaccine Alliance, are working with the WHO to develop "the largest and most diverse Covid-19 vaccine portfolio in the world," which they hope can deliver billions of vaccine doses in the year ahead, including to many poor countries.
James Love, director of the NGO Knowledge Ecology International, says the foundation's decades of work on vaccines, along with its sprawling financial ties, allowed it to assert influence early in the pandemic.
"He had enough money and enough presence in the area for a long enough period of time to be positioned as the first mover and the most influential mover. So people just relied upon his people and his institutions," says Love, "In a pandemic, when there is a vacuum of leadership, people that move fast and seem to know what they're doing, they just acquire a lot of power. And he did that in this case."

Gates's leadership in the pandemic has been widely, almost universally, praised, with The New York Times calling him a "vocal counterweight to President Trump," and Madonna making a million-dollar donation to support the foundation's work. But because Gates is not an elected representative or public official, the details of his far-reaching influence—and finances—have largely eluded public scrutiny.

"You have an enormous amount of power that affects everyone around the globe, and there should be some accountability, some transparency," says Love. "People are not asking unreasonable things. It's a charity.… [We're asking], 'Can you explain what you're doing, for example? Can you show us what these contracts look like?' Particularly since they're using their money to influence policies that involve our money."

The Gates Foundation declined requests for interviews and did not respond to detailed questions sent by e-mail, including about its investments in pharmaceutical companies working on Covid.
Love and other critics say a key role Gates has played in the pandemic has been elevating the pharmaceutical industry—for example, pushing the University of Oxford to deliver its leading Covid-19 vaccine platform into the hands of Big Pharma. The resulting partnership with AstraZeneca had another effect, as Bloomberg and Kaiser Health News recently reported, changing the university's distribution model from an open-license platform, designed to make its vaccine freely available for any manufacturer, to an exclusive license controlled by AstraZeneca.

Gates had the leverage to push the university, Bloomberg reports, because the foundation is one of the founders and largest funders of the Coalition for Epidemic Preparedness Innovations, which in turn funds the University of Oxford's vaccine development (to the tune of some $384 million). The Gates Foundation has also directly given hundreds of millions of dollars to the university through charitable grants for a variety of projects—including previous funding to the university's Jenner Institute, which is developing Oxford's Covid vaccine.....
....
MUCH MORE
Also at The Nation: