Following up on the earlier "
Real Estate: These Big Cities Have Big Problems
".
Because you are dealing with people who don't have enough money, when you see their valueless—in the loan value or resale value sense—belongings in front of the property it is just sad.
The event is so emotional that artists have been trying to capture what's going on for hundreds of years. Wikipedia uses an 1892 Danish painting to illustrate
the page
on evictions:
117 years later Curbed
used this image
:
From Knowable Magazine:
A "scarlet E" can be the catalyst for a chain reaction of calamities, and Covid-19 piles on.
A

lifetime of personal belongings piled on the curb or crammed in a car. Locks changed by the landlord. A sheriff forcing tenants from their home. Across the United States, millions of people receive notices of eviction every year, more than one every nine seconds — and that was before the Covid-19 pandemic, with all its economic upheaval.

Evictions are life-altering catastrophes with impacts that extend far beyond the immediate loss of a home. They are often the catalyst for a chain reaction of calamities, pushing tenants into poverty and homelessness, disrupting education and employment and spurring a host of health problems.
"Eviction is an incredibly traumatizing experience that affects every aspect of a person's life," says Emily Benfer, a housing and health law expert at Wake Forest University in Winston-Salem, North Carolina. "Nothing good comes out of eviction."

Just a decade ago, evictions were an understudied area of social research. But now, growing interest from law, social science and public health experts has led to a clearer understanding of their devastating fallout, as well as effective approaches to preventing them.

The route to the streets
The true extent of the eviction problem was unknown until 2018, when sociologist Matt Desmond of Princeton University launched Eviction Lab, the first national eviction database. By collecting records from across the country, Eviction Lab revealed that at least 3.7 million evictions were filed in 2016. The most common reason was that the tenant had fallen behind on rent — and often, the shortfall was just a few hundred dollars, according to the lab's data. In Virginia, for example, half of evictions in 2016 were for less than $940. One in 10 was for less than $355.

"It might just be that someone's kid broke their arm on the playground and they had to take them to the ER, or the car broke down," says Alieza Durana, a media strategist for Eviction Lab. "And that set off a series of events that quickly became a poverty trap."....
...
MUCH MORE
A couple more of the depictions:
From Massachusetts'
Clark Art Institute
, A New York City eviction, 1890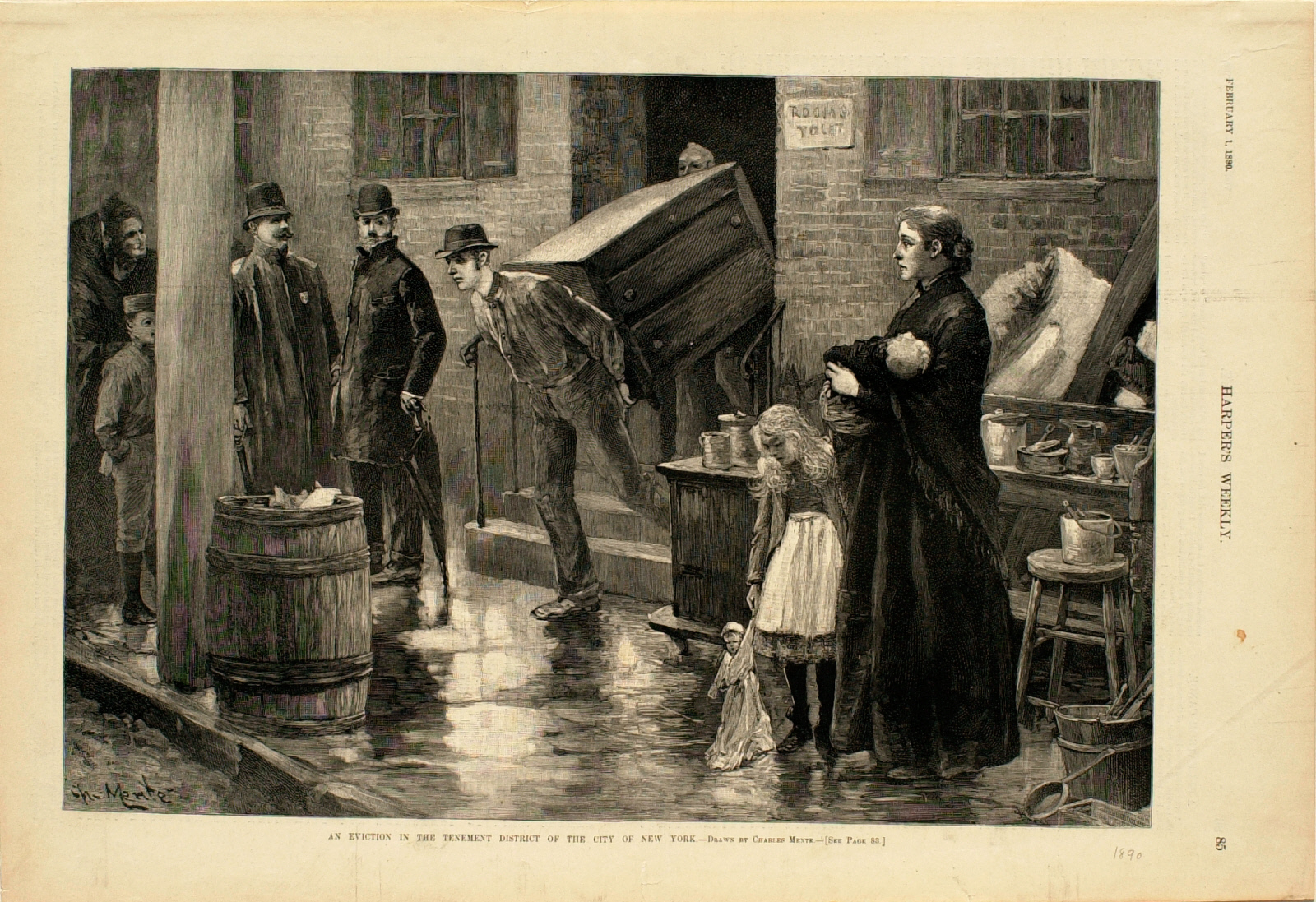 And a slightly different approach to the topic:
Woman
Reading Possession Order
, Hackney, London 1997 at the
Victoria & Albert