Eighteen months ago we went with cobalt over lithium as the battery material that would be in shortest supply and think that is still a correct assessment. However, if long-suffering reader is interested the 'search blog' box has quite a few hits for 'lithium'.
From Bloomberg:
A scramble by the lithium market's biggest players to tie up supply of the high-tech metal is gathering pace in the 170-year-old heartland of Australia's $90 billion mining industry.

Rising Chinese demand for lithium-ion batteries needed for electric vehicles and energy storage is driving significant price gains and an asset boom in Australia, already the world's largest lithium producer. The fast-developing hub is drawing investment and deals from global producers as well as chemical-to-battery manufacturers in China, the top consumer.

Western Australia has four operations in production and three more major projects being advanced to begin output. Major players are likely to continue to scope for deals in the state to secure supply for the next 20 or 30 years, according to consultant Benchmark Mineral Intelligence.

"There are serious companies investing and people are starting to lock up the biggest, long-life resources. The question is -- who's next?" Simon Moores, managing director of Benchmark Mineral, said by phone from London. Though on a smaller scale, "it's a land grab like in the petroleum industry when BP, Shell and others rounded on the Middle East in the 1960s and 1970s," he said.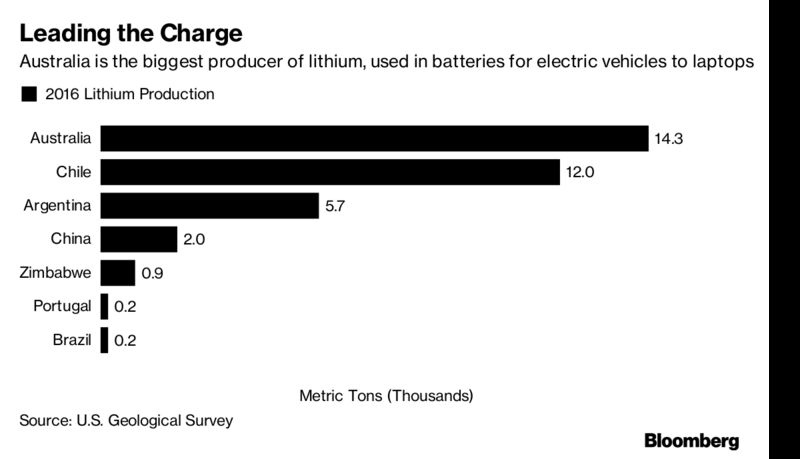 Greenbushes in Western Australia, the world's biggest hard-rock lithium mine, is being expanded to more than double annual capacity, Talison Lithium, a joint venture between China's Tianqi Lithium Corp. and North Carolina's Albemarle Corp., said in an email. The site, first mined for tin from about 1888, already accounts for about 30 percent of global lithium production, according to Australia's government. Tianqi is also planning about A$717 million ($578 million) of processing plant expansions.

Jiangxi Ganfeng Lithium Co., which has interests in projects in countries including Ireland and Argentina, holds about 43 percent of Australia's Mt. Marion operation and in May agreed a supply and investment pact with Pilbara Minerals Ltd. for a mine development. Battery maker Shaanxi J&R Optimum Energy Co. in July struck an agreement for future output from Altura Mining Ltd.'s project....MUCH MORE
Recently on EV's:
Electric Vehicles: An Old Pro On Battery Technology and Policy and China
Now She's Gone and Done It: Izabella Kaminska and Electric Vehicles
Germany to Take on Tesla With Gigafactory Rival
I think that makes 10 gigafactories in various stages of planning or development. Creating and ensuring the supply chains to feed them is going to be interesting to say the least.
Batteries: Manufacturers Are Reducing the Amount of Cobalt Used In Electric Vehicles
I think that's it for August. The top two in particular are worth one's time.
Additionally we have hundreds (Google says 978 but that includes folks who scraped us) of posts on batteries. If interested here's the search: