From Bloomberg, Dec. 8:
Nomura Has 10 'Gray Swan' Risks That Could Roil Markets in 2017
Soaring U.S. productivity, a floating yuan, and the end of cash?
Markets' black swans are rapidly turning gray.

Brexit, the election of Donald Trump, and a faltering bull market in bonds have all helped elevate analysts' 2017 tail risk predictions from the status of colorful festive reading to a cause for sleepless nights.

Analysts at Nomura are the latest to throw their hat in the ring — warning investors to be prepared for "unlikely but impactful events" including the possibility of capital controls in emerging markets, a long-elusive pick-up in Japanese inflation, and a Federal Reserve at loggerheads with the U.S. government.

"Needless to say, none of them are our base case," the analysts caveat. Of course, investors scarred by the turmoil of 2016 know that doesn't necessarily mean that they won't happen.
Here are Nomura's 10 events that could end up roiling your 2017.

1. Russia on the warpath
A staple of gray swan lists since Vladimir Putin's annexation of Crimea two years ago, Russian military aggression in eastern Europe remains one of the big risks for 2017. While an actual military invasion is unlikely, the foundations may be laid next year through anything from changes to U.S. foreign policy to the election of populist leaders in Europe, according to Nomura. Position for risk by going long credit-default swaps of any of the Baltic nations, shorting credit and trading Poland as a negative proxy.

2. A surge in U.S. productivity
As Fed officials make the case that the president-elect's fiscal stimulus should be targeted at increasing productivity, Nomura says a pick-up in research and development investment could already be laying the groundwork. Like the tech boom of the 1990s it would catch forecasters unaware, but could have implications ranging from a faster series of rate hikes to a sustained boost to equities if it materializes.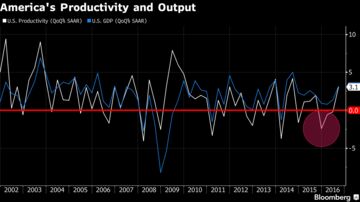 3. China floats the yuan
As recent outflows suggest, a balance-of-payments shock could follow hasty moves to liberalize the currency regime of the world's second-largest economy. The probability China gets to that goal in the next 12 months is "very low," Nomura analysts assert, but prepare for yuan weakness if it happens....MORE
Possibly also of interest:
Saxo Bank's Predictions 2017: Britain Remains In EU; Mexican Peso Soars, Italian Banks Best Performing Equity Group...
"The Pessimist's Guide to 2017"