From ZeroHedge:
It appears pre-Brexit levels for gold ($1270) and Silver ($17.50) are being eyed as heavy volume is monkey-hammering precious metals lower...
Gold broke below the 100DMA at $1317 and is heading for $1270 (pre-Brexit) and $1262 200DMA....MORE
Front futures 1,287.30 -25.40
And from Kitco:
Gold Extends Losses, Sharply Lower, Amid Stronger U.S. Dollar, Fed Speak, Chart-Based Selling
Gold futures prices have extended early solid losses to trade sharply lower and at a 3.5-month low in late-morning trading Tuesday. Better trader and investor risk appetite in the world marketplace this week has helped to weigh on safe-haven gold. Sell stop orders were triggered in gold futures markets when several technical support levels were breached after the New York day session opened.

The stronger U.S. dollar index on Tuesday has also worked against the precious metals market bulls. The British pound fell to a 31-year low against the U.S. dollar overnight and the Euro currency is also seeing keener selling interest, both of which are helping to boost the greenback....
...
MORE
Earlier today
Dragonfly Capital
pointed out the support line but gets no prescience points, it was posted after the the decline had begun: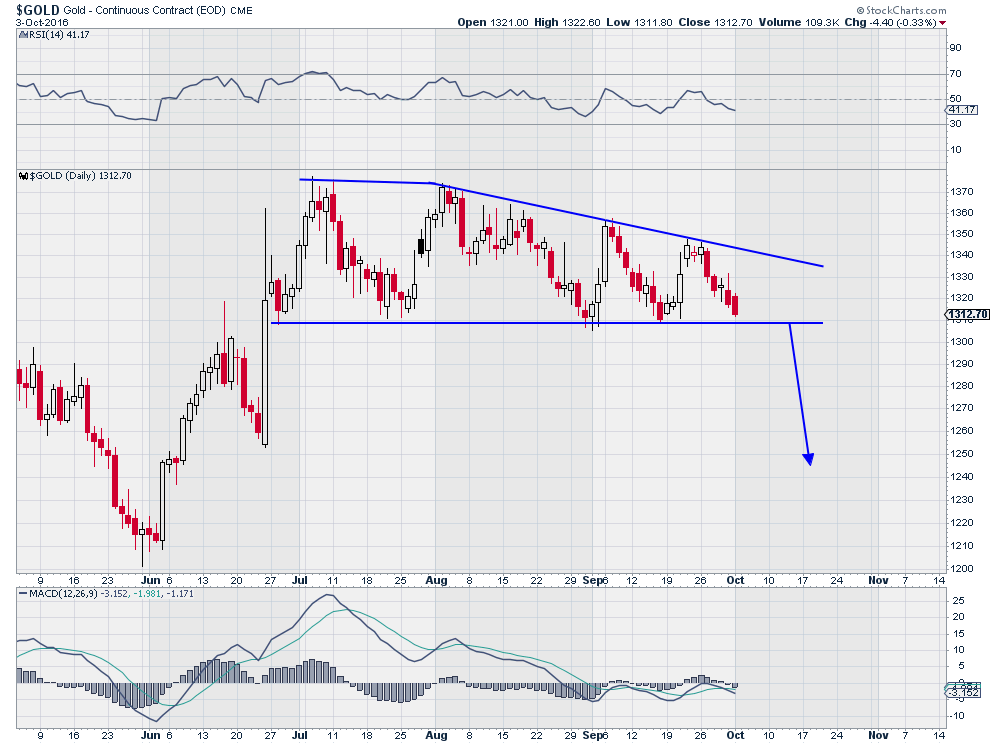 ...The chart above shows a series of lower highs, against support at 1310. That has defined a descending triangle. A break below 1310 would give a target to the downside to about 1245. From there the June low at 1210 would not be far off. Will it break down?...