We'll see what next year brings, next year.
In the meantime the current
IRI/Columbia
Niño 3.4 forecast is only showing weak La Niña
conditions
with a shot at El Niño returning again in 2017: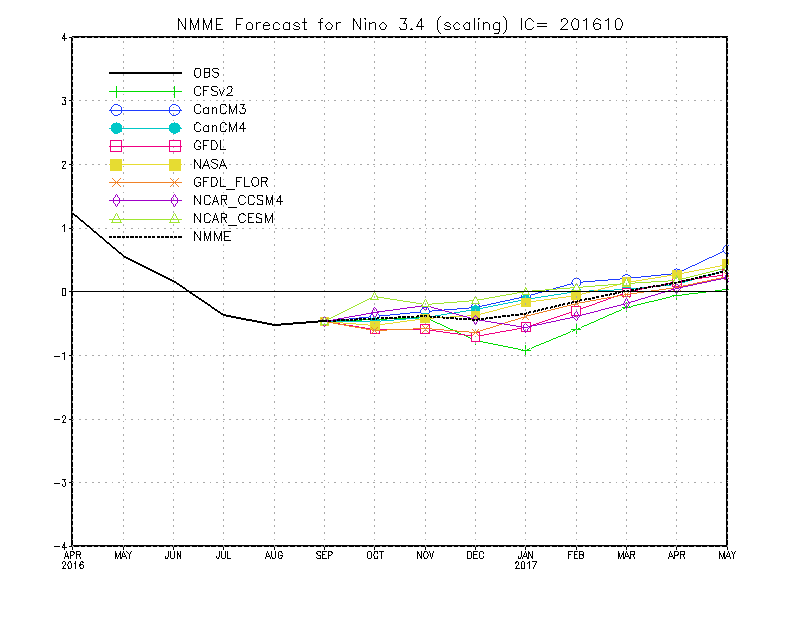 We'll be back with the plume of model predictions in a few days.
From Barron's Investors' Soapbox AM:
There remains a notion that "all it takes is a single season of adverse weather" for a full inventory correction.
Credit Suisse

We would like to give investors an update of our global team's view on the agricultural cycle, fertilizer prices and our general expectations as we head into the U.S. harvest and summer-planting season in Latin America.




In conjunction with our updated views on global ag and nutrient prices, we are adjusting our earnings-per-share estimates and target prices on Mosaic (ticker: MOS) (new target price of $19, down from $21) [rated at Underperform],

Potash Corp. of Saska

tchewan (POT) (target price $11) [rated at Underperform],

CF Industries

Holding (CF) (target price $26) [rated at Outperform], Agrium (AGU) (new target price of $88, down from $91) [rated at Outperform] and

Intrepid Potash

(IPI) (target price of $1) [rated at Underperform].




Despite many investors hoping for an "ag cycle bottom" in 2016, we continue to believe pressures will subside in second-half 2017 at the earliest. There remains a notion that "all it takes is single season of adverse weather" for a full inventory correction, but we argue that: 1) the magnitude of inventory hangovers are large enough it would take a very severe supply disruption to correct; and 2) there were adverse weather events in several key regions in 2016, including Brazil, Argentina, South Africa and Western Europe. The latter point begging the question, What will it take to pressure prices higher? As demand is already healthy (exports, feed, etc.), we fail to see material upside in 2017 absent a significant improvement on the macro front, leaving us with an unenthusiastic view in the intermediate term.




We still see risks on the potash front as we head into 2017 (and already seeing "cracks" to the near-term bull thesis) for Mosaic and Potash Corp., but we believe the largest risks in the next two quarters are actually phosphate....MORE