November 3.213 +0.020
January
3.504
-0.015
From Bloomberg:
Hedge funds that raised bearish bets on natural gas by the most in two months were left blindsided after prices instead surged to the highest since the beginning of 2015.

Money managers increased short positions by 7.7 percent in the week ended Oct. 4, U.S. Commodity Futures Trading Commission data show. Long wagers also fell.

Both moves, it turns out, were wrong. Gas prices broke through resistance on Friday and a key technical indicator indicates the rally may have further to run. Record seasonal demand from power plants and slowing production have eaten away at a supply glut. On Friday, Hurricane Matthew failed to deliver the electricity failures that some had forecast, easing concerns over its potential impact on demand for the power-plant fuel.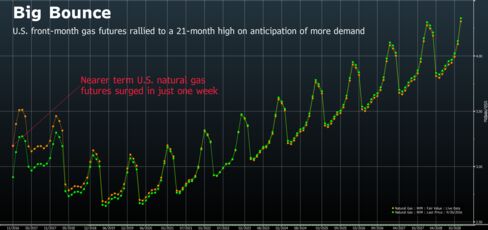 The market is about to enter a volatile period with prices trending higher on the outlook for a colder winter and rising exports after a "smallish" stockpiling season, John Kilduff, a partner at Again Capital LLC in New York, said. "The market has a lot going for it."...MORE