Combining nostalgia for a certain lifestyle that existed into the 1950's* with the
indolent frivolity of the tiny treasure surprises in some of the Fabergé Imperial Eggs.
Or something.
From Bloomberg:
Rolls-Royce Made a Picnic Basket That Costs $46,000
Key Details: An attractive leather-and-wood box filled with many of the tools you'll need for a fancy picnic, including place settings for four, two small carafes for liquor, crystal glasses, and tins for food.
Competitors: Many high-end department stores and fashion brands make picnic baskets, such as the Fortnum & Mason St. James hamper (£550/$706) or Williams-Sonoma's wicker basket, at much more reasonable price points. Aston Martin has even made one (£1,950) that's less expensive than Rolls-Royce's.
Price: $46,000.
Why's It Worth It? That's a trick question—because to you or me, it's not. But this picnic hamper doesn't exist in a vacuum; it was made as an upgrade to a particular car, the Phantom coupe, which costs more than $400,000. It's something that makes that very extraordinary car even more unique, and for some people, that alone is worth the eye-popping price tag.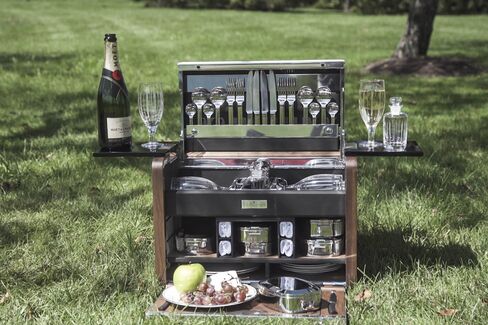 Rolls-Royce drivers love anything that makes their car singular or special. This fall, up to 50 recent buyers will have the opportunity to test out an addition to the Rolls list of luxury offerings.



In honor of the last 50 Phantom coupes that the brand will ever make, it is also making 50 high-end picnic hampers that fit perfectly in the back. (The trunk of a Phantom, as you may know, opens downward, transforming into the perfect padded platform for a posh tailgate.) If you buy one, the marque will supply custom-made leather straps to keep it locked firmly in place.

The price tag on the Rolls-Royce Limited Edition Picnic Hamper is $46,000, which may seem almost ludicrously steep—because it is. But Rolls isn't making it for everyday picnicking. The point is to offer a special upgrade to a particular Rolls-Royce car, one for which you've probably already paid upwards of $400,000. And this kind of distinction is what owners really drool over.

Chances are, you won't even be lugging the hamper around a field yourself. (It weighs more than 40 pounds). That's what your driver is for.

So what goes into this pricey leather box, with its hand-carved walnut and mill-finish aluminum? There are four place settings and tidy little containers for your food. The plates have real platinum accents, and the crystal glassware and liquor decanters are hand-etched....MORE
HT: Matt Levine@Bloomberg
Rolls-Royce, obviously "smarter than the av-er-age bear!"
*
I was going to make the cut-off for the lifestyle 1939 but realized Betjeman didn't publish
A Subaltern's Love Song,
which definitely caught the vibe, until '41:
Miss J. Hunter Dunn, Miss J. Hunter Dunn,
Furnish'd and burnish'd by Aldershot sun...
Although the car in the poem is a Hillman, and I'm thinking of a pre-war MG TA Midget, this beauty of a
pique-nique
basket, which sold as
lot 66 at Bonham's
Paris sale in 2012 for just €8,125 would have looked right at home in a Roller:
Panier à pique-nique ancien pour six personnes par G W Scott & Sons - 1910