Update:
we had the wrong link for the "Evolultion of Wikipedia's Heavy Metal Umlaut page".
Here's the correct link
Original post:
From
Jakub Marian
:
One of my readers asked me to create a map showing the "density" of metal bands in European countries—and so I did. The following map shows the number of entries (which represent both active and inactive metal bands) in Encyclopaedia Metallum, divided by the country's population in millions. For comparison: The number for the United States is 72.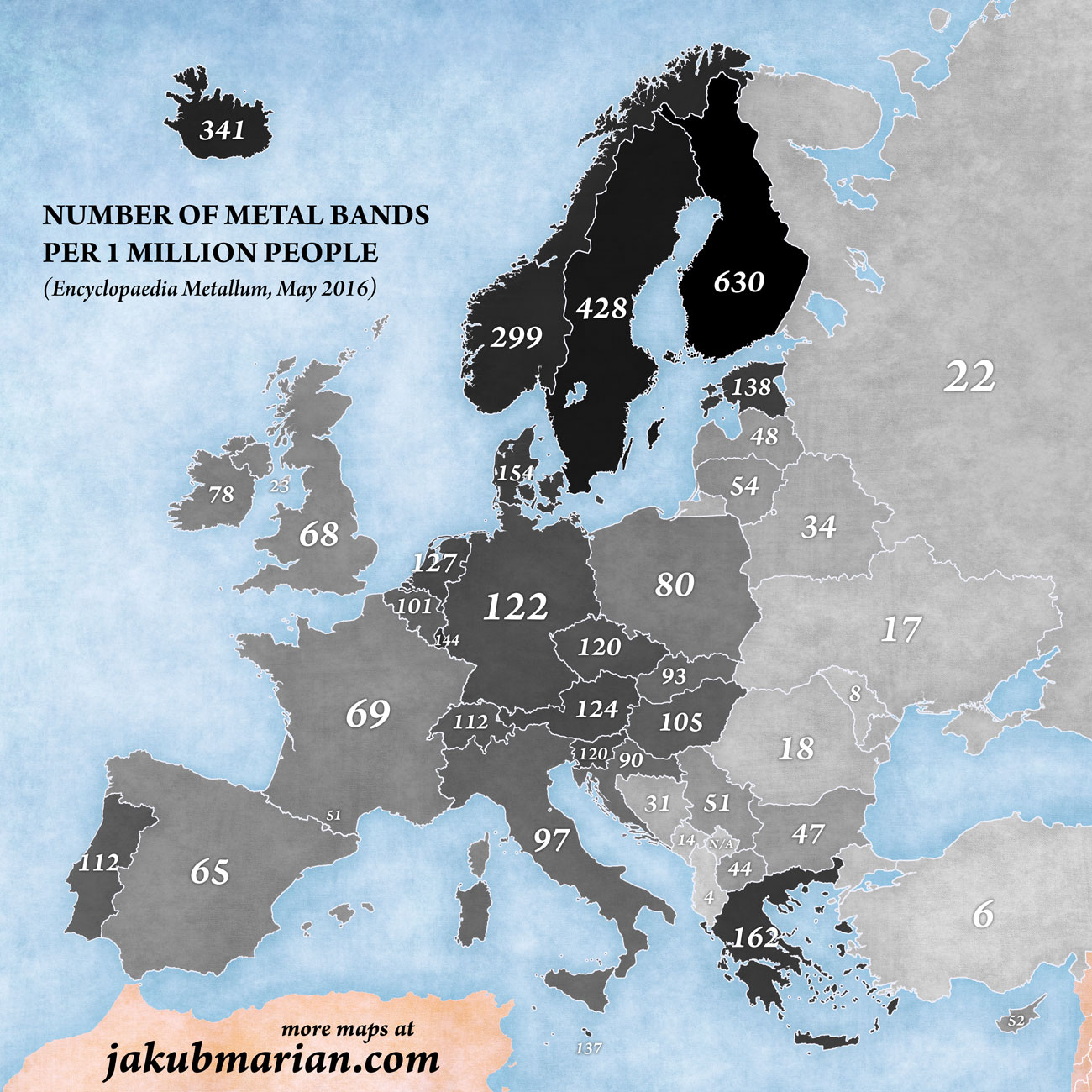 And regarding the controversy surrounding the term per capita that sprang up in the comments: It is customary to use the label "per capita" in the titles of statistical studies in which a total (such as the number of metal bands) is divided by population size, even if the units used within the article itself are different (for instance, the entire English Wikipedia follows this approach)....MORE
For more on
röck döts
see John Udell's
Heavy Metal Umlaut page
.
Die Ärzte used a
triple
umlaut (which I can't reproduce) in their name on one of their albums,
Geräusch
:
For a convergence/singularity of sorts here's
Actual Robots Cover Motörhead Classic
:
They also do covers of AC/DC (
TNT
), Joan Jett (
I Love Rock N Roll
, full frontal) and The Ramones (
Blitzkrieg Bop
).
For real Teutonic vibe the spelling on the name should be Kömprëssörhëäd.
See also:
"It's like a pair of eyes. You're looking at the umlaut, and it's looking at you."
-David St. Hubbins
This Is Spın̈al Tap
Palate-cleanser before you move on:
After Car Attacked By Paris Taxi Drivers, Uber to Toughen Image With Umlauts
...In response:
San Francisco, CA (PRwëb) January 13, 2014-
In a move designed to make Uber seem more "bad-assed and scary in a quasi-heavy-metal manner," the Goldman Sachs, Menlo Ventures and Bezos Expeditions-backed company officially changed it's name to Über on Monday.
"Much like Mötley Crüe and Motörhead, Über is not to be messed with," said founder G

ä

rrëtt C

ä

mp, né Camp...
Possibly also of interest (I know, it's a long shot):
Today in Umlauts: Hästkött (Swedes love it)
Following up on yesterday's "Automation Steals Jobs: Röböts Playing Motörhead".
Today in Umlauts: The Stäubli Picker-Packer
Today in Umlauts: Björk and Sir David Attenborough Team Up in a New Documentary About Music and Technology
Today in Umlauts: Geneva Fund Manager Michaël Malquarti Calls For Swiss Helicopter Money
Today in Umlauts: Tyler Cowen Schools Brad DeLong on umlauts
.
For what it's worth, many more.
And further for what it's worth, as we've said a few times, the
best guitarist in the world
is a seventeen year old girl in Paris who among other genres and styles is pretty good at thrash metal.
She did this cover when she was 14: