We were hearing 33 to 38 Bcf.
Front futures are off 3 cents at $2.943. Maybe some traders were looking for withdrawls from storage?
From the EIA:
Released: July 19, 2012 at 10:30 a.m. (eastern time) for the Week Ending July 13, 2012.
Next Release: July 26, 2012
| | |
| --- | --- |
| Working Gas in Underground Storage, Lower 48 | other formats: Summary TXT CSV |
Region

Stocks in billion cubic feet (Bcf)

Historical Comparisons

07/13/12

07/06/12

Change

Year Ago (07/13/11)

5-Year

(2007-2011)

Average

Stocks (Bcf)

% Change

Stocks (Bcf)

% Change

East

West

Producing

Total



Notes and Definitions
Beginning with the report period for the week ending March 16, 2012, EIA is including salt dome and nonsalt-dome subtotals for the Producing Region in the Summary section. The sum of the components may not equal the total for the Producing Region, because of independent rounding.

Summary
Working gas in storage was 3,163 Bcf as of Friday, July 13, 2012, according to EIA estimates. This represents a net increase of 28 Bcf from the previous week. Stocks were 509 Bcf higher than last year at this time and 470 Bcf above the 5-year average of 2,693 Bcf. In the East Region, stocks were 198 Bcf above the 5-year average following net injections of 23 Bcf. Stocks in the Producing Region were 186 Bcf above the 5-year average of 934 Bcf after a net injection of 1 Bcf. Stocks in the West Region were 86 Bcf above the 5-year average after a net addition of 4 Bcf. At 3,163 Bcf, total working gas is above the 5-year historical range.
Working gas stocks in the Producing Region, for the week ending July 13, 2012, totaled 1,120 Bcf, with 247 Bcf in salt cavern facilities and 873 Bcf in nonsalt cavern facilities. Working gas stocks decreased 4 Bcf in the salt cavern facilities and increased 5 Bcf in the nonsalt cavern facilities since July 6. An historical series of the salt and nonsalt subtotals of the Producing Region is available for download at: wngsr_producing_region_salt.xls.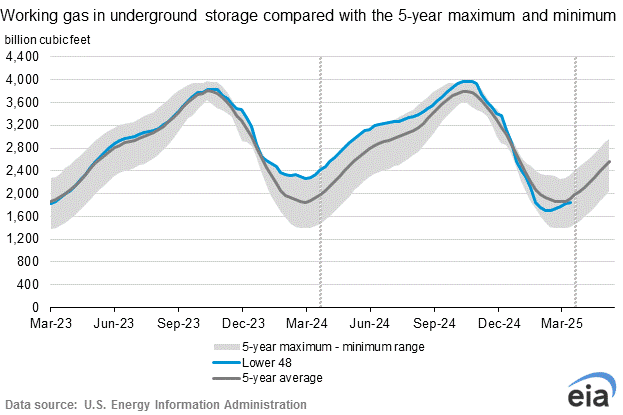 Note: The shaded area indicates the range between the historical minimum and maximum values for the weekly series from 2007 through 2011.
Source: Form EIA-912, "Weekly Underground Natural Gas Storage Report." The dashed vertical lines indicate current and year-ago weekly periods.