(It's a recipe for disaster)
This is the second consecutive year that I've had to use that headline and, while last year it was in November this time it's at the start of Oktoberfest!
From Agrimoney:
Malting barley premiums rise 'near to record high'
Malting barley is resisting the slump in prices of other grains, raising its premium "close to" a record high in Europe thanks to the knock-on effects of the dry spring, and growing world demand for malt.




Malting barley futures have, while falling some 7% so far this month to E258.00 a tonne, outperformed milling wheat in Paris.




On cash markets they have done even better, standing at E260.00 a tonne in the French port of Creil, unchanged so far in September, according to Agritel, the Paris-based consultancy.




With French feed barley going for E195 a tonne, down E7 a tonne this month, the premium for malting grain has reached historically high levels, Jack Watts, senior analyst at the UK's Home Grown Cereals Authority, said.




"I am not sure it's a record, but certainly close to that level," Mr Watts told Agirmoney.com.




'Quality pretty poor'




The rich premium is largely down to European harvest results which, for malting barley, have not - as in wheat - surprised in their resilience.




"The quality is pretty poor in Germany, France and the UK because of the dry spring," Mr Watts said....MORE
The last time Bavarians got pissed and pissed off they ended up handing out these little medals: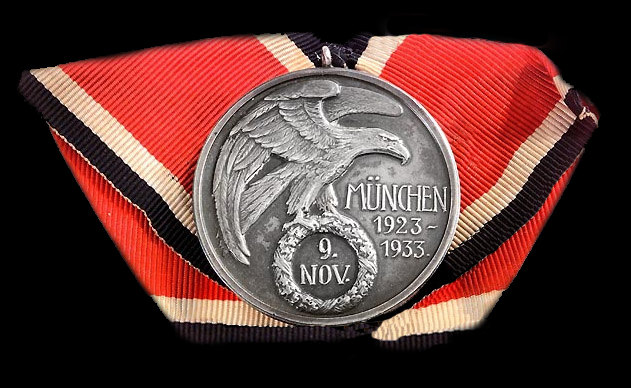 NSDAP -"Blood Order" 1923 - 1933
They were quite the thing for some volk. And about that beer-hall,
The corporate history, current back to 1920, is:
Inbev acquired Spaten-Franziskaner-Löwenbräu-Group in 2004 which was created by the
merger of Spaten and Lowenbrau in 1997. Lowenbrau aquired Burgerlisches Brauhaus (BB) in either 1920 0r 1921. On Nov. 9, 1923 BB owned the Burgerbrau Keller, where a secular religion was founded, complete with myths, heroes, icons and a messiah.

All the companies were publicly held, although I can't imagine the markets were very liquid in April, '45.
In the words of Hermann Goering: "
Shut up. You've got your beer, haven't you?"