Just a roundup. Yesterday, Environmental Capital put up a post "
Hurricane Ike: Get Ready For Soaring Gasoline Prices
" that folks are using as a gas price bulletin board.
And now the headlines:
From Bloomberg:
Ike Forces Shutdown of 19% of U.S. Refining Capacity (Update2)
From Agence France-Presse:
Bush lifts import fuel limits, Ike price-gouging reported
From ABC:
Gas Price Gouging Hits Hurricane States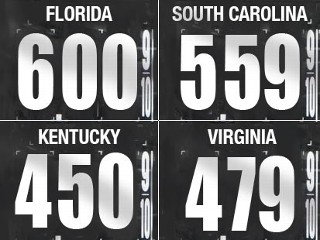 Gas prices in some parts of the country have seen giant spikes as
some owners try to profit off Hurricane Ike and fears of gas shortages.
(ABC News Photo Illustration)
From the Associated Press:
Economic damage from Ike may be less than feared
From Reuters:
UPDATE 1-Hurricane Ike hits heart of U.S. oil sector
Exxon begins damage assessments at Texas refineries
Valero says shuttered Texas refineries lose power