Well now.
This might be enough to convince the Chinese to allow wider bands on their currency.
If you simply raise interest rates, foreign capital rushes in and cranks the economy all the more. If you also allow the currency to seek its own level you slow down that capital flow down.
Here's the story from the International Herald Tribune:
Soaring food prices propelled the Chinese inflation rate to its highest point in nearly 11 years, cementing expectations that the central bank would defy a global trend and keep raising interest rates.
Consumer prices rose 6.5 percent in August from a year earlier after gaining 5.6 percent in July, the Chinese statistics bureau said Tuesday.
The central bank and economists fear that surging prices for food, particularly pork, will start rippling through the economy as people expect further price increases and demand higher wages.
Stocks in China, which have gained 151 percent this year, fell sharply Tuesday on concern that the government would step up efforts to cool the economy. The benchmark CSI 300 index fell 4.7 percent.
"Inflation expectations have begun to rise, and the government should do something significant," said Jim Walker, chief economist at CLSA Asia-Pacific Markets in Hong Kong. "Otherwise, the stock and property bubbles will get bigger and eventually crash."...MORE
Here's a quick and dirty monetary history of China over the last century.
If I recall correctly, the Ming Dynasty had to repudiate paper money in the 1450's to end a hyperinflation.
Update: I am pleased with myself.
Found this quote from "A History of Money":


1448
Hyperinflation in China
The Ming note nominally worth 1,000 cash has a market value of only three.

p 183
Here's the Hyperinflator: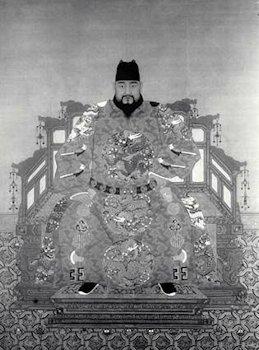 Ying Zong, Zhu Qizhen, 1436 - 1450 and 1457 - 1464, Emperor Ming Dynasty
From Paul Noll