A repost from Friday, November 24, 2017.

First up, the two Thanksgiving Day pieces from the Paris Review are just so satisfying I had the brilliant thought to check what P.R. might have for Black Friday.
And was rewarded with:

Black Friday, the Poem

The Paris Review staff is off in a tryptophan-induced haze, so we're reposting some of our favorite Thanksgiving pieces. Enjoy your holiday!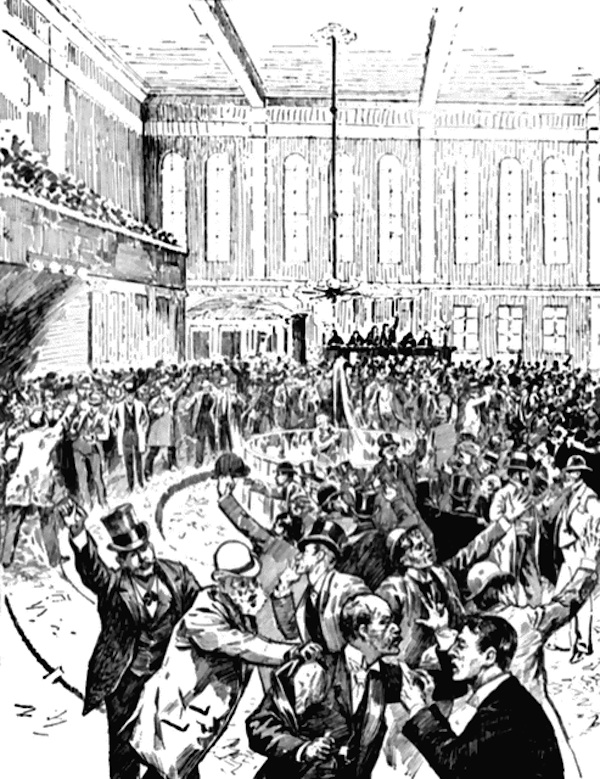 "The New York Gold Room on 'Black Friday,' September 24, 1869." —E. Benjamin Andrews 1895
While most of us know Black Friday as the nightmarish commerce-fest following Thanksgiving—a term coined in Philadelphia in 1961—in fact the nom de guerre dates back to the nineteenth century. In 1869, the robber barons Jay Gould and James Fisk attempted to corner the gold market, resulting in financial crisis and scandal.

E. C. Stedman, a poet and broker(!), wrote the following:


One Hundred and Sixty! Can't be true!
What will the bears-at-forty do?
How will the merchants pay their dues?
How will the country stand the news?...
...MORE

We too have referenced the doings on Sept 24, 1869. An example from 2013:

It May Have Been October 2008 When I Lost My Mind

....Here's a stock market oriented version of Steely Dan's "Black Friday"*, worth the watch:
*The song refers to Black Friday, September 24, 1869 when an attempted corner of the gold market by James Fisk and Jay Gould was broken by the Federales.

When Black Friday comes
I'll stand down by the door
And catch the gray men
When they dive from the fourteenth floor
When Black Friday comes
I'll collect everything I'm owed
And before my friends find out
I'll be on the road
When Black Friday falls you know it's got to be
Don't let it fall on me...
Over at ZeroHedge they will probably be doing the annual Tally of the Mayhem, although with coronavirus restrictions a lot of the shopping-from-home crowd are only at risk from friends and family.
Here's hoping no one gets killed at Walmart.
Or at their keyboard