One of the all-time great headlines.
First posted
November 13, 2017
"'Cashed-up' Mother Teresa kept Vatican Bank afloat – journalist "
That headline is just cognitively dissonant enough to be hilarious.
No bail-ins at the
IOR !
From RT:
Mother Teresa had such huge savings in the Vatican Bank that if she had withdrawn her funds the institution could have defaulted, according to an Italian journalist.

Gianluigi Nuzzi's newly-released book, 'The Original Sin,' digs into the Vatican's darkest secrets and details how, when American archbishop Paul Marcinkus was appointed president of the Vatican Bank, Mother Teresa was believed to have "by far the most cashed up account."

"If only Mother Teresa had closed the accounts or transferred them, the institute would have risked default," Nuzzi writes, La Presse reports.

The Italian author went on to say how the discovery of Mother Teresa's bank account is proof of Marcinkus' long-standing meddling in Vatican affairs.

"There is a power block in the Vatican that obstructs Pope Francis' reforming action just as it did with Benedict XVI – it existed with Marcinkus and his parallel management of the IOR – and it still exists today," Nuzzi said.

"Her [Mother Teresa] account in the Vatican bank is proof that these gentlemen were and still are within the Curia and they trust them. They were also trusted by Mother Teresa, who, as is told, entered the Ior by a secondary door and was welcomed by Monsignor De Bonis, Marcinkus's right arm."...
...
MORE
Previously on the Istituto per le Opere di Religione:
April 2014
"Con men stopped entering Vatican bank with €3 trillion of fake bonds"
June 2012
Bizarre Goings-on at the Vatican Bank (again)
September 2010
Italian police seize $30M from Vatican in probe
Hey! It's the 80's all over again!
October 2011
Pope Joins #OccupyWallStreet: "Vatican calls for global financial authority"
I know resurrections are more common in Jerusalem but maybe Il Papa thinks he can get Banco Ambrosiano up and running again....
...From Wikipedia:
Banco Ambrosiano was an Italian bank which collapsed in 1982. At the centre of the bank's failure was its chairman, Roberto Calvi and his membership in the illegal Masonic Lodge Propaganda Due (aka P2). Vatican Bank was Banco Ambrosiano's main shareholder, and the death of Pope John Paul I in 1978 is rumored to be linked to the Ambrosiano scandal, giving one of the subplots of The Godfather Part III. Vatican Bank was also accused of funneling covert United States funds to Solidarity and the Contras through Banco Ambrosiano....MORE
On June 19, 1982 the BBC
reported
on 'God's Banker
"The body of a top Italian banker has been found hanging from Blackfriars Bridge in London"
The Guardian updated the story in 2003's "
Who Killed Calvi
".
Prior to that the Institute for Works of Religion (aka The Vatican Bank) laundered Gambino Family heroin profits.
More recently we had this Dec. 2010 headline "
Vatican Bank hit by financial scandal... again
"
So the Pope, Queen Elizabeth and Lloyd Blankfein walk into a bar...
And finally:
June 2017
Yesterday I Learned About ATMs
It started with Paul Murphy at Alphaville's Markets Live:...
...Which of course lead to the question "Do the Vatican Bank ATM's really have instructions in Latin?"
(I had heard that from a less-than-reliable-source)
As it turns out, the answer is: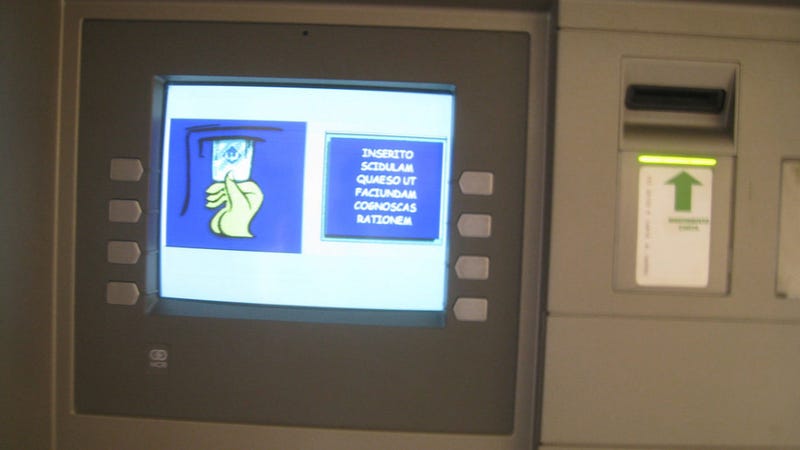 Yes, Latin is one of the language options.
In fact there's even
a TIL thread at reddit
.
Which managed to stay on topic for about four comments:
Pope:

Why do I have to push "1" for Latin? It should only be Latin! If you're gonna come here, learn the language! Foreigners!

"And then they ask 'Are you sure you want to withdraw $DCXLII?'"
"$642? The ATMs in the Vatican give out ones!?"
Smallest note in the EU is €5 Maybe it's €640 and two Hail Marys?

"Romanes eunt domus."
The line is "People called 'Romanes' they go the house." "Romanes" is not a Latin word; he pluralized a second declension word as if it were third declension, so it doesn't translate to anything.

"Eunt?? What is eunt???"
3rd person plural present active of the verb 'eo, ire', meaning to go.
And from there it just descended into madness.
Until Il Papa decided to show off by making a withdrawal: