Usually these guys go in for stripper poles. So you try to have some inventory should they ever cross your path. But noooo....
From 2013's "
How to Spot a Hedge Fund Fraudster
":
Bombast. In my experience they are all bombastic.
And stripper poles. You would not believe the number of stripper poles that crooks collect....
...Some of the varlets who have graced our pages:
More Strip Clubs, Private Jets and Ponzis
..."Credit card and bank records show that Martin spent more than $1 million at a strip club and restaurants, nearly $1 million at elite hotels and another $1 million renting flight time on private jets," prosecutors said. "He purchased a fleet of luxury vehicles, donated hundreds of thousands of dollars to celebrity charity events, and hired personal security guards to accompany him in public."...
The Dénouement: Perpetrator of $190 Million Minneapolis Foreign Exchange Ponzi Scheme Sentenced
...According to court documents made public, Cook purchased a Rolls Royce Silver Spur, a Maserati Quattroporte, a Hummer H2, a Jaguar S-Type, a Mercedes-Benz, a heavily customized Audi S8, a 60-foot houseboat (complete with a brass stripper pole), an island in Canada and a two-person submarine....
The Stripper and the Ponzi Schemer
A Holly Golightly for the Stripper-Embezzlement Age...
And today's story, from Emptywheel:
Paul Manafort Indicted for Laundering 50 Times as Much Through Rugs as Through Household Labor
One of the nifty things Robert Mueller did with his indictment of Paul Manafort was to lay out all the extravagances he used to launder his money into the US. The most amazing was his $1M antique rug bill.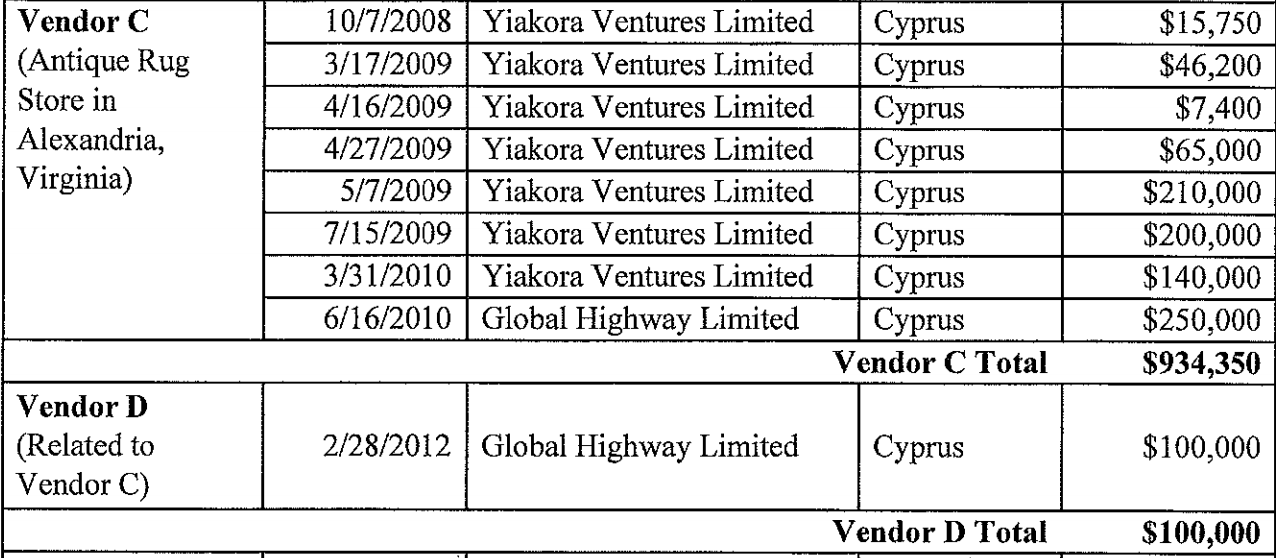 Mueller also listed $1.4 million laundered through two different clothing stores.
Compare that with the mere $20,000 Manafort spent on the people who clear his NY property.

Admittedly, Manafort appears to have redone his Hamptons and FL properties routinely to launder more money. But it basically means he shorted his staff while spending big on magic carpets.
Which will make Trump's efforts to give rich shits like Manafort more tax benefits this week even more difficult.

The money laundering through luxury goods isn't the key crime in Manafort's indictment. That has to do with serving as an unregistered foreign agent with regards to work from 2012. Importantly, that means Mueller got to point to Tony Podesta's corruption prominently as one of these two unnamed firms.
The allegation is that by having one Republican and one Democratic lobbyist firm to do the work of pro-Russian Ukrainians, Manafort hid what was really going on.

Just as interesting, Mueller slapped a false statements charge onto the failure to report being a foreign agent, tied to these claims (they carry onto a second page)....
...
MORE