Flying cows is becoming a trend.*
From the Independent:
Qatar: Man airlifts 4,000 dairy cows into isolated Gulf state as diplomatic crisis deepens
'It's a message of defiance, that we don't need others,' said Umm Issa, 40, a government employee
Call it the biggest bovine airlift in history.
The showdown between Qatar and its neighbours has disrupted trade, split families and threatened to alter long-standing geopolitical alliances. It's also prompted one Qatari businessman to fly 4,000 cows to the Gulf desert in an act of resistance and opportunity to fill the void left by a collapse in the supply of fresh milk.

It will take as many as 60 flights for Qatar Airways to deliver the 590-kilogramme beasts that Moutaz Al Khayyat, chairman of Power International Holding, bought in Australia and the US "This is the time to work for Qatar," he said.

Led by Saudi Arabia, Qatar stands accused of supporting Islamic militants, charges the sheikhdom has repeatedly denied. The isolation that started on 5 June has forced the world's richest country by capita to open new trade routes to import food, building materials and equipment for its natural gas industry. The central bank said domestic and international transactions were running normally.

Turkish dairy goods have been flown in, and Iranian fruit and vegetables are on the way. There's also a campaign to buy home-grown produce. Signs with colours of the Qatari flag have been placed next to dairy products in stores. One sign dangling from the ceiling said: "Together for the support of local products."...MORE
*As noted back in March's "
Beware of Cows
":
And we're not just talking futures.
From the London Review of Books, March 23:
The statistics make grim reading. In a 2013 report, Overview of Fatal Incidents Involving Cattle, the Health and Safety Executive notes in its usual lapidary prose that 'this paper gives an overview of fatal incidents involving cattle to (a) Enable Agriculture Industry Advisory Committee members to consider the current trends in agriculture accidents involving cattle.' There is no room for complacency. The HSE logs 74 'fatalities involving cattle' in the UK in 2000-15, compared to 53 deaths caused by Islamist terrorism in the same period. Many of the victims were farm workers, while eighteen were 'MOPs' or members of the public. These victims were disproportionately older people (only one was under 50, thirteen were over 60 and as many as five were over 70)....
... If that isn't terrifying enough the Swiss
Bovine Special Forces
are practicing air-mobile vertical insertion techniques: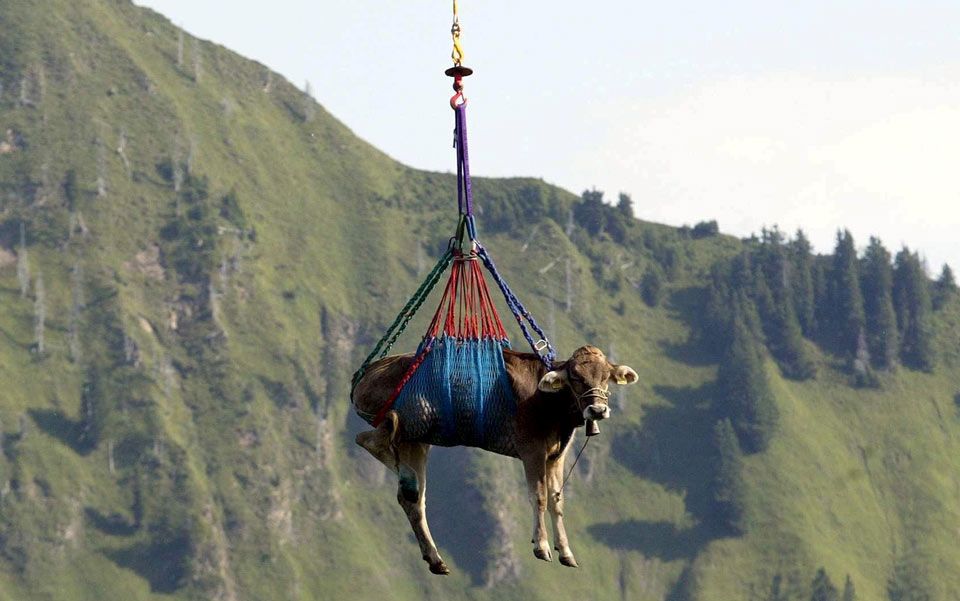 Note identifying bell (and more disconcertingly, lack of diaper)