Nice 'hood.
From the Guardian, February 10:
Capital's most expensive apartment is one of new breed of ultra-luxurious properties aimed at cash-splashing global super-rich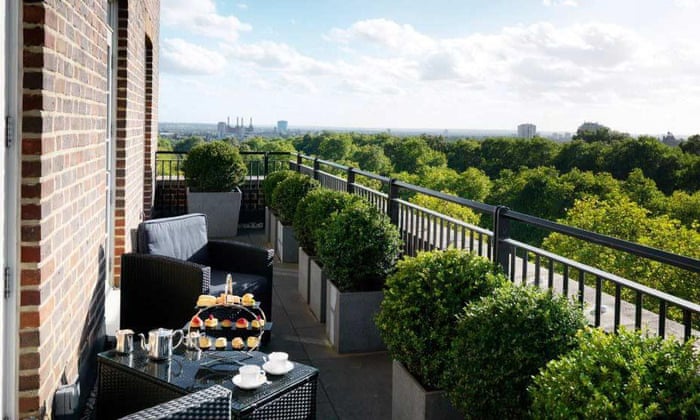 It may cost £60,000 a week to rent, but London's most expensive flat does come with a butler, a choice of daily newspaper – and the use of an Aston Martin. The 448 sq metre art deco Park Lane penthouse is the costliest of a new breed of ultra-luxurious properties designed to cater for the global super-rich, who are choosing to rent rather than buy in London in order to avoid million pound-plus stamp duty bills.

The staggering rent means that a week at the five-bedroom, five-bathroom property in the Grosvenor House Suites costs more than twice the average annual UK wage of £28,000.

But it does come with a private terrace overlooking Hyde Park, a 14-place dining table, a baby grand piano, a butler "at your beck and call 24 hours a day for the duration of your stay", and a maid to unpack up to 10 cases. The complimentary Aston Martin might be superfluous for many guests, though, judging by the number of chauffeurs waiting near the building.

One afternoon last week, a Rolls-Royce Phantom and a Bentley Continental were hovering outside the entrance to the Grosvenor House block. Another three Rollers were waiting under cover in the building's dedicated garage.

The penthouse is a favourite of celebrities and Middle Eastern royalty, according to the agents marketing it. "It's most popular during the summer, when a lot of tourists come – it attracts Arab royalty, who come with big families," said Ricky Luther, of Chase Apartments, one of several firms marketing the flat.

"They like to be close to Knightsbridge and Mayfair, and have the lovely views of Hyde Park. You can get to Harrods in just five minutes." Luther said the penthouse had not yet been rented out for a whole year, which would cost more than £3m....MORE
Well, I guess that makes moot what was going to be today's Question America Wants Answered:
Where could Kendall Jenner live for £1.25m in the UK?
Park Lane. Twenty weeks.
But, as the story notes, at least she gets butled.