The fact that the series of higher lows on the hourly chart has held is positive for the call of a week ago: No technical reason the stuff can't go to $3.80 with $3.60 a reasonable target:
Tuesday's action, up 5.2%, saw the highest settle since Jan. 27, $3.2930.
Recently:
April 3
"U.S. Natural Gas Supply/Demand Scenarios for Injection Season"
The up move does appear to have some legs...
March 31
Natural Gas: EIA Weekly Supply/Demand Report
March 27
Natural Gas: EIA Weekly Supply/Demand Report
If (big if) natty can get through the little gap at $3.20 there's not much technically to stop it up to the bottom of the big gap at $3.80, with $3.60 a minimum target....
Bloomberg's Daily Prophet sounds almost breathless:
...NATURAL GAS IS SOARING
The market for U.S. natural gas is having a moment, with futures surging to a two-month high. Today's move was no one-hit-wonder. Gas just capped the best one-month rally since June, buoyed by traders wagering that shipments to Mexico and overseas buyers will leave stockpiles of the fuel below normal by the beginning of next winter, according to Christine Buurma. Bank of America Corp. has predicted that prices will jump about 20 percent from current levels by the end of 2017 as output from shale basins slows. Gas explorers including Range Resources Corp. and Chesapeake Energy Corp. were among the best performers in the S&P 500 Index on Tuesday amid the rally in energy prices....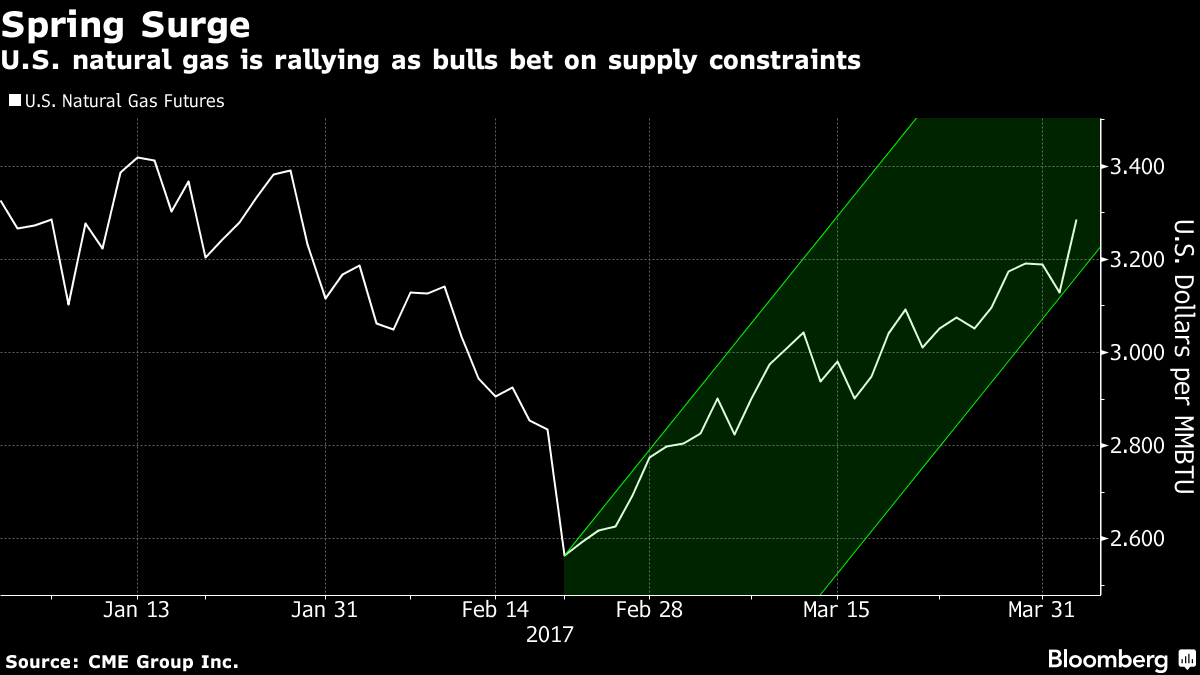 The Daily Prophet: Admit It, Stocks Are Pretty Boring These Days