Update below.
I have no idea why this is in the bookmarks or why someone has a single page website devoted to Mr. Vigoda's mortal state. From
Abe Vigoda.com
:
Abe Vigoda is

alive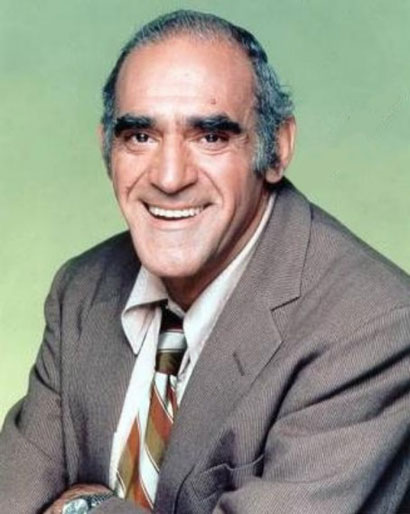 Page loaded Friday February 27 2009 8:44:54 AM PT
Reload page for update
Abe Vigoda's Dead (Premortem Mix)
Update:
It was brought to my attention that the link is probably related to this post from April '08
"
Buy Tin
":
That was the cryptic message from a reformed metals trader this afternoon. No rationale, no investment thesis, just "buy tin".





I couldn't help thinking of the Barney Miller episode "

Child Stealers

".




Time traveler "Adam Boyer" comes back from 2057 and is hounded by Harris for stock tips:





[Harris, acting on a tip from a "twinkie" claiming to be a Sociology Professor from Columbia University who's traveled back in time from the year 2057 (played by the great character actor Richard Libertini), calls his broker to transfer his assets from gold bullion to the financial standard of the future--Zinc!!]:



"...no, no blue chips, either...I was thinking about Zinc! (pause) Yeah, Zinc! What's it goin for these days? (writing the figure on a notepad)...Thirty seven and a half cents---a POUND?? (The "Professor" gives Harris an encouraging nod)...Yeah, well,

I might be willin' to spring for a coupla TONS!

"

Source



Since the episode aired in January 1980 and zinc today is $1.075, zinc didn't do so hot (but much better than gold, which hit $850 that same month).

Here's

Kitco's zinc chart.



Here's Platt's on tin:


...

Tin was once again a stand-out feature

, although down $325 in premarket trade the metal still traded above $20,000/mt, at $20,175. As such, Indonesian tin major PT Timah posted net profit of Rupiah 1.78 trillion ($191.86 billion), up 757% from 2006. Timah attributed the higher net profit to better performance and higher global tin prices that were supported by a more favorable situation in the national tin industry. The trader said:

"Tin still looks good, but it is a funny market. If you have a big position you need a good entry/exit strategy."

I might be willin' to spring for a coupla tons.




Here's the chart from

Kitco Base Metals

: