Update below.
Original post:
FT Alphaville's Izabella Kaminska used to talk with Chris Cole of Artemis Capital about volatility but I haven't seen him mentioned in a while. What he's up to is on a whole different level from the usual. Here's an example:
The shadow convexity risk in the machine (and the VIX)
More recently David Keohane has
hit the vol beat
, pretty good timing.
And today we have Bloomberg:
Short volatility trade takes a hit after months in the green

Long volatility trade pays out but only for astute timers
It finally happened.

After months of speculation over when the lull in U.S. equity volatility would snap, investors got their answer Wednesday. A bombshell report on President Donald Trump's interactions with former FBI director James Comey sent the VIX up the most in almost a year.

For anyone on the wrong end of the trade, it was a painful lesson.

Investors who had been minting money since Election Day by selling volatility, taking a short wager on equity-market turbulence, got a reminder of how fast the bet can turn. Stuck for weeks at its lowest levels in a decade, the CBOE Volatility Index surged by almost half in a matter of hours.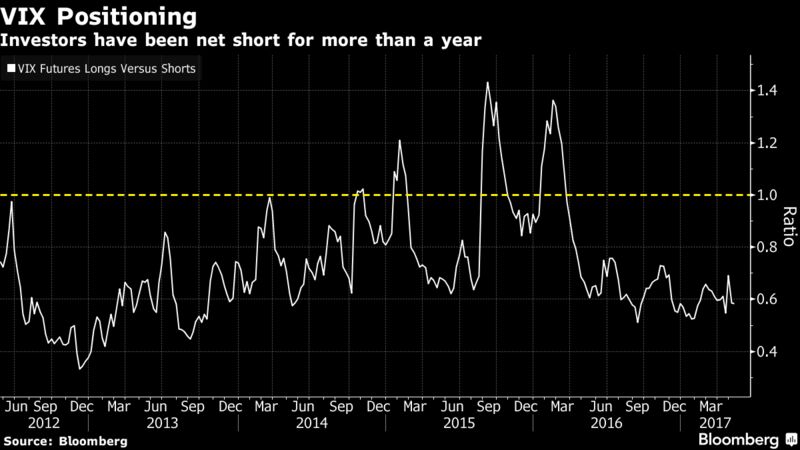 Betting on muted volatility was all the rage as the VIX went dormant below 11 for almost a month. There's about $1 billion in bearish positions in VIX short-term futures exchange-traded products, and total exposure to a one-point jump in the VIX has been in the $300 million to $500 million range since 2014, according to an estimate from Macro Risk Advisors.

As analysts at MRA note, a long position on volatility is hard to stomach when looking at a chart of the VXX exchange-traded note, which grinds lower over time due to the cost of carrying a rolling position in front-month VIX futures that comprise the underlying securities of the ETN....MORE
UPDATE: "
Aaaagh...Forgot To Post Sir-Mix-a-Lot On Volatility
".