From Priceonomics, Oct. 21, 2016:
What Happens When You Enter the Witness Protection Program?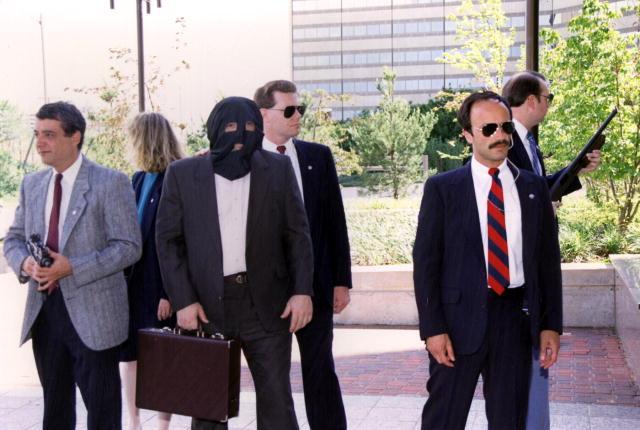 A staged photo of U.S. Marshals protecting a witness. Photo credit: U.S. Department of Justice, Wikipedia
Gerald Shur was struggling to convince his witness to testify. The year was 1961, and Shur, an attorney focused on organized crime at the Department of Justice, was talking to the owner of a New York trucking company who claimed that Johnny "Sonny" Franzese demanded half the profits of his business. Franzese's men had vandalized his trucks and beaten him unconscious with baseball bats until he complied, and now the owner hoped that Shur could offer him a way out. But when Shur suggested testifying against Franzese, the witness

responded

, "Testify?"



He had good reason to be incredulous. For Franzese, a member of one of the "Five Families" of the New York mafia, extorting a small business owner represented low-level crime. An associate wearing a wire would later

record

Franzese discussing the best way to commit murder: he would cover his fingertips with nail polish, wear a hairnet, and dismember the body so that he could run it through the garbage disposal.




Shur

suggested

that the owner "did not really have a choice." Only by testifying could he protect his business. But the owner did have a choice, and not crossing a high-ranking mafia member seemed the wiser course.




While frustrated, Shur could understand the decision. His own father, a worker in the garment industry and a trade group leader, had learned to accept the mob's presence; several gangsters attended Shur's bar mitzvah. Shur's office also contained gruesome photos of some of the 25 government informants killed over the past five years.




As Shur and his colleagues drove away after failing to gain the business owner's cooperation, Shur

said

, "There's got to be a way to get witnesses to testify against the mob." Another agent replied, "Would you?"

-----------

Witsec: Inside the Federal Witness Protection Program is a rare

insider's account

of the Witness Protection Program, and the book begins with this story of Gerald Shur's unsuccessful attempt to charge Sonny Franzese with extortion. Shur would go on to found the Witness Protection Program, also known as WITSEC for "witness security," and earn the title "father of WITSEC." Shur, who is now retired, is a co-author of the book, but it is not a memoir. Co-author Pete Earley, the author of several books on crime and espionage, casts Shur as a central character.
One can't help but wonder whether Earley's positive take is shaped by his access to Shur and, in turn, to insider information. Yet Earley makes clear that he approached the subject with a critical eye, sharing criticism of Shur like the witness who called him a "small man with a small mind and a God complex" as well as controversy surrounding a relocated witness who went on a crime spree. So while the book may not be perfectly objective, it is not the typical, self-congratulatory memoir penned by most politicians and government officials.




Despite the occasional detour to give a full account of Shur's career, the book admirably recounts the story of the Witness Protection Program. It is filled with details one might expect, like the time U.S. Marshals snuck a turncoat mobster into a courthouse three days before a trial to avoid hitmen. Equally interesting, however, is the human side of WITSEC. As Shur and his colleagues discovered, keeping the peace between a mobster and his wife proved almost as important to jailing criminals as security details.




No one in the program would label it as such, but the Witness Protection Program provides one of the more compelling social experiments imaginable. Would law enforcement consent to helping criminals? Can lifelong lawbreakers earn a living legally when given a fresh start? How does a mobster or gang member maintain self-respect when he becomes a rat? And what is it like to indefinitely live a double life?




Control Alt Delete

When a witness decides to enter WITSEC, U.S. Marshals immediately arrive at his or her home to whisk the witness away. Even when the witness is already in custody, agents come for the family. Early in WITSEC's history, Shur expanded the program to protect family members as the mob reacted to testimony by killing witnesses' families. Parents, spouses, children, siblings and even mistresses are all taken to an orientation center in a Washington suburb. Some are prepared and wait for the Marshals with small bags; other surprised families leave pasta sauce still simmering on the stove.




The center near Washington is a safe spot for witnesses while they testify; it is also compared to Ellis Island as it is where informants prepare for their new life. Families don't choose where to live as they may have told friends that they'd like to live there, but witnesses may get to choose one of several prepared options. Only around

four

government officials will know where they choose.




Families also practice their back story, from learning about the part of America that they are now "from" to signing their new name. Witnesses often keep their first name or at least first initial to make the transition easier. One couple

told

the

New York Times

that coming up with a new family name "was like naming a baby." It's when you start being called by your new name, the couple said, that it starts to feel surreal. By the time they left,

according to the mother

, she "felt like a new person."...

MUCH MORE