The almost war with Iran, from the seizure of the British tanker and the Houthi attack on Saudi Arabia last year and the burning of the entrance to the U.S. embassy and killing of Soleimani last month, was very good for the tanker business.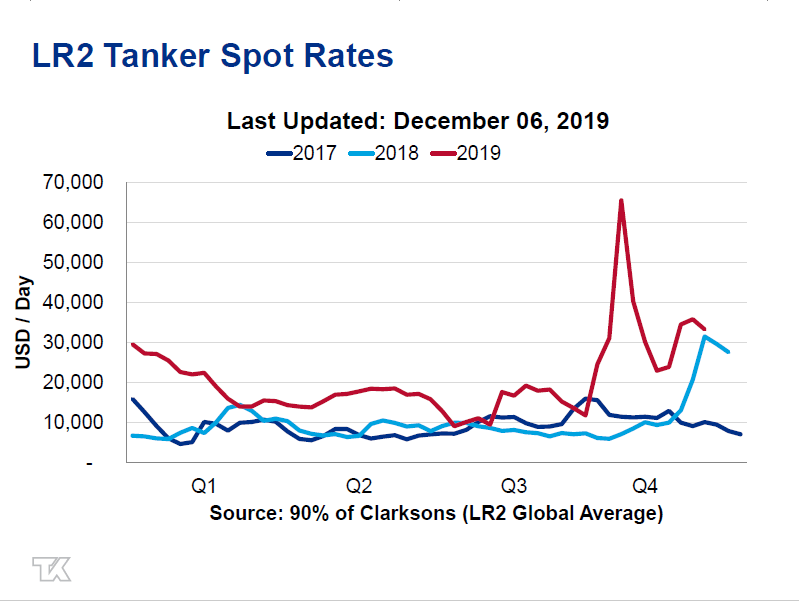 From World Maritime News:
Euronav Taps Into Market's Best Quarter in 10 Years
Belgian tanker shipping major Euronav has enjoyed strong tanker dynamics in the fourth quarter of 2019.
The company's net profit for the quarter stood at USD 160.8 million, a major recovery year-on-year from USD 279,000 reported in Q4, 2018.

For the full year, Euronav's net profit reached USD 118.8 million, rebounding from a loss of USD 110 million from a year earlier.
"Tanker sector fundamentals improved further during Q4 to drive large tanker markets to their highest level since 2008. Specific catalysts have continued to influence short term freight rates – reflecting the current balance in market dynamics," Hugo De Stoop, CEO of Euronav said.
The company said that its fuel procurement strategy has shielded the company from the price volatility of compliant fuels ensuring it a smooth transition into IMO 2020.



Namely, in 2019 Euronav purchased sufficient fuel to cover more than half of its compliant fuel requirements for calendar 2020. The compliant fuel has been deployed since the end of Q4.

"The inventory, which has been fully tested, was purchased at a very competitive price well below the current spot price for compliant fuel.

"The fuel procurement strategy implemented so far has provided Euronav adequate protection against higher fuel prices and a high degree of optionality going forward regarding fuel strategies," the company said.




The company added that it might consider the potential to install scrubber technology, adding that management would continue to closely monitor fuel market dynamics.

The exploration of the use of scrubbers comes as a major surprise, since previous Euronav's leadership, headed by its

former CEO Paddy Rodgers

strongly opposed scrubber technology.

"Our fuel procurement strategy has delivered operational security over the key implementation period of IMO 2020. With continued limited contracting of new vessels, an order book at 25-year low and fleet expansion capital being rationed, the prospects for a sustainable cyclical upturn remain in place, " Euronav's CEO added.


Tanker Market


Demand for crude oil recovered strongly during Q4 (IEA estimate 1.9 bpd for Q4 2019) on factors other than seasonality with a prolonged period of refinery maintenance reversing ahead of IMO 2020 coupled with GDP growth from improving trade conditions, Euronav said....