First up, the expectations
via FX Empire
:
....U.S. Energy Information Administration Weekly Storage Report
Traders are looking for this week's EIA report to show a 112 Bcf withdrawal for the week-ending February 7.
A Bloomberg survey of nine market participants showed a range of withdrawals from 102 Bcf to 112 Bcf, with a median draw of 108 Bcf. A Reuters poll included a much larger pull of 122 Bcf and a median of 110 Bcf, while a Wall Street Journal poll averaged a 109 Bcf draw. NGI's model projected a withdrawal of 113 Bcf.....
From The Energy Information Administration:
for week ending February 7, 2020 | Released: February 13, 2020 at 10:30 a.m.
... Summary
Working gas in storage was 2,494 Bcf as of Friday, February 7, 2020, according to EIA estimates. This represents a net decrease of 115 Bcf from the previous week. Stocks were 601 Bcf higher than last year at this time and 215 Bcf above the five-year average of 2,279 Bcf. At 2,494 Bcf, total working gas is within the five-year historical range.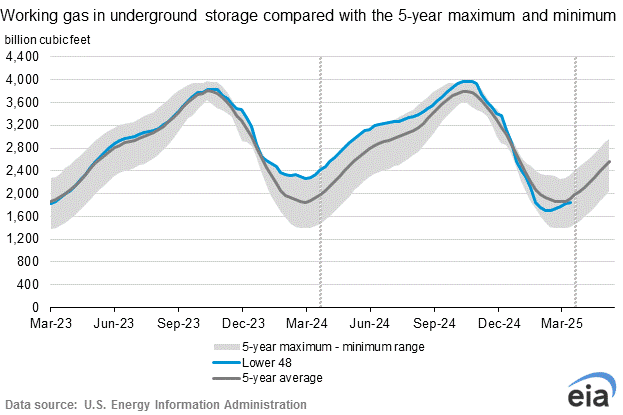 Cold weather a'comin'
Finally, the price reaction from the CME:
1.846 +0.002