From The Barents Observer, Jan. 17:
Natural gas tankers jam on Norwegian Arctic coast
A total of 14 powerful LNG carriers this Wednesday crowded at loading and reloading facilities in northern Norway.
These are busy days in the waters of Honningsvåg and Hammerfest, two towns located along the coast of the Barents Sea.

On Wednesday, six tankers were engaged in ship-to-ship reloading of LNG in the Sarnes Fjord by Honningsvåg. It is the biggest operation of its kind conducted in the area since local ship-to-ship operations started in late November 2018.

Involved were ice-class carriers «Vladimir Rusanov», «Christophe de Margerie» and «Georgy Brusilov» all of them delivering natural gas from Russia's Yamal Peninsula. They were reloading to the «Flex Endeavor», «Patris» and «BW Tulip», information from ship tracking service MarineTraffic shows.

The reloading activities are part of a deal between Russian natural gas company Novatek and Tschudi Group, a Norwegian logistics company. Ice-class tankers shuttle to Honningsvåg where they reload to conventional tankers that subsequently deliver the shiploads in Rotterdam and other port terminals.

The six tankers in Honningsvåg were not alone. In the nearby waters in the Barents Sea were another four tankers waiting for their turn to reload. In addition, an 11th carrier was about to leave Norwegian waters on its way back to Sabetta, the Russian terminal in Yamal....MORE
The article shows the tanker "
Christophe de Margerie
" at the Russian loading terminal but we will go with this pic from Ship Technology showing the stern-first ice-breaking technique used by the tankers: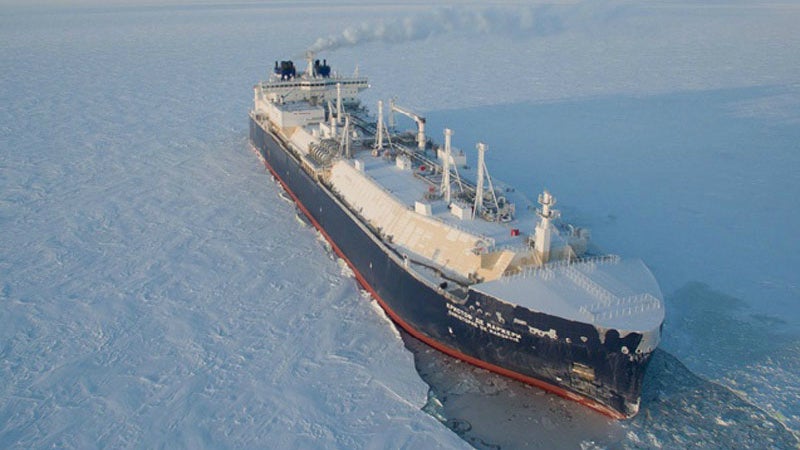 As mentioned in Friday's "
Shipping: 'Two new-built tankers are crossing the Arctic in mid winter'
":
...the reinforced tankers have to do it stern first, they don't have the rounded bows of icebreakers...
Additionally, should they get to an impassable chunk of the ice the tankers at least have some previously broken open water to escape to and ponder the next move.
The
ShipTech story
quotes the price of the "
Christophe de Margerie
" class ships at $320 million which is enough capital that you don't want it stuck in the ice or queued up to unload for any length of time.