From Bloomberg via Canada's Financial Post, February 23:
Cube development,' which taps multiple layers of shale all at once, could accelerate the U.S. shale boom and make the global supply glut even worse
In the scrublands of West Texas there's an oil-drilling operation like few that have come before.
Encana Corp.'s RAB Davidson well pad is so mammoth, the explorer speaks of it in military terms, describing its efforts here as an occupation. More than 1 million pounds of drilling rigs, bulldozers, tanker trucks and other equipment spread out over a dusty 16-acre expanse. As of November, the 19 wells here collectively pumped almost 20,000 barrels of crude per day, according to company reports.
Encana calls this "cube development," and it may be the supersized future of U.S. fracking, says Gabriel Daoud, a JPMorgan Chase & Co. analyst who visited Davidson last year. The technique is designed to tap the multiple layers of petroleum-soaked rock here in Texas's Permian shale basin all at once, rather than the one-or-two-well, one-layer-at-a-time approach of the past.
After a years-long land grab by explorers, "the Permian is graduating," according to Daoud. "Now it's all about entering manufacturing mode."

With the new technique, Encana and other companies are pushing beyond the drilling patterns that dominated during the early, exploratory phases of the shale revolution. Now, operators are assembling projects with a dozen or more well bores that touch multiple underground layers of the Permian and other shale plays simultaneously, tapping the entire 3-D "cube" beneath a producer's acreage.

The shift has been controversial, with some of the biggest names in oil shying away from the approach as too aggressive and expensive. But if proponents are right, the cube could accelerate a drilling boom that's already helped push U.S. production past an historic 10 million barrels a day, rewriting the rules of global energy markets along the way.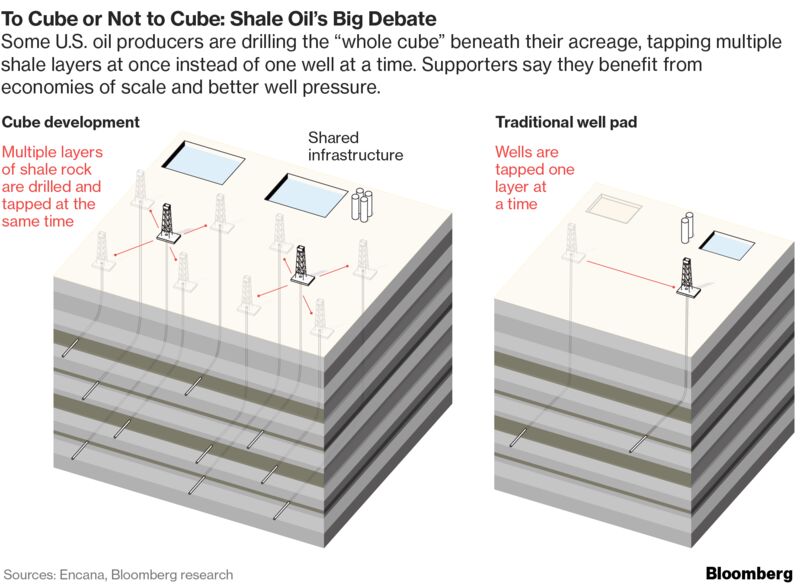 Along with the Davidson pad, Calgary-based Encana has 12- and 14-well operations in Texas as well as a 28-well behemoth in the Montney shale play in Alberta and British Columbia.
Devon Energy Corp. said on Wednesday that it has more than 10 multi-zone projects scheduled for 2018, including the 11-well Boomslang pad in the Permian and the 24-well Showboat project in Oklahoma. Concho Resources Inc., another early champion, debuted its Brass Monkey operation in the Permian last year, with 10 wells that dive underground and then burrow about two miles horizontally.

"We have just started to get into the manufacturing and harvest mode of the shale revolution," Concho Chief Executive Officer Tim Leach said on a conference call.

Not Cheap

The operations aren't cheap. A project the size of RAB Davidson may have cost Encana US$120 million, according to JPMorgan's Daoud. Included in the calculations are the cost of the extra wells, bigger tank batteries, added pumping power, extended pipeline networks and additional labour required in cube development, among other expenses.

Proponents, though, say it saves money in the long run, thanks to economies of scale and improved well productivity rates. One driller bragged about employing several drilling contractors on the same pad and leveraging one's price against the other, the analyst recalled.

Encana didn't respond to messages seeking comment, but on a conference call in November, company officials said all of their 2018 wells will be part of large-scale pads. Per-well costs dropped by a quarter at the Montney cube, Encana reported.

The alternative is "a high-cost, scattered approach to development" that "risks sterilizing resources in the long-run," CEO Doug Suttles told analysts.

Unconvinced

Not everyone's convinced. Major Permian operators including Pioneer Natural Resources Co. and EOG Resources Inc., while expanding their well pads, have nonetheless taken a more conservative approach. Along with the initial cost, skeptics cite the potential for logistical nightmares in going too big. Some worry about undercutting innovation and note it's hard to diagnose problems on individual wells when a dozen or more are running all at once....

MORE