The author is a professor of marketing at
NYU Stern.
A hugely ambitious piece from Esquire, Feb. 6:
Four companies dominate our daily lives unlike any other in human history: Amazon, Apple, Facebook, and Google. We love our nifty phones and just-a-click-away services, but these behemoths enjoy unfettered economic domination and hoard riches on a scale not seen since the monopolies of the gilded age. The only logical conclusion? We must bust up big tech.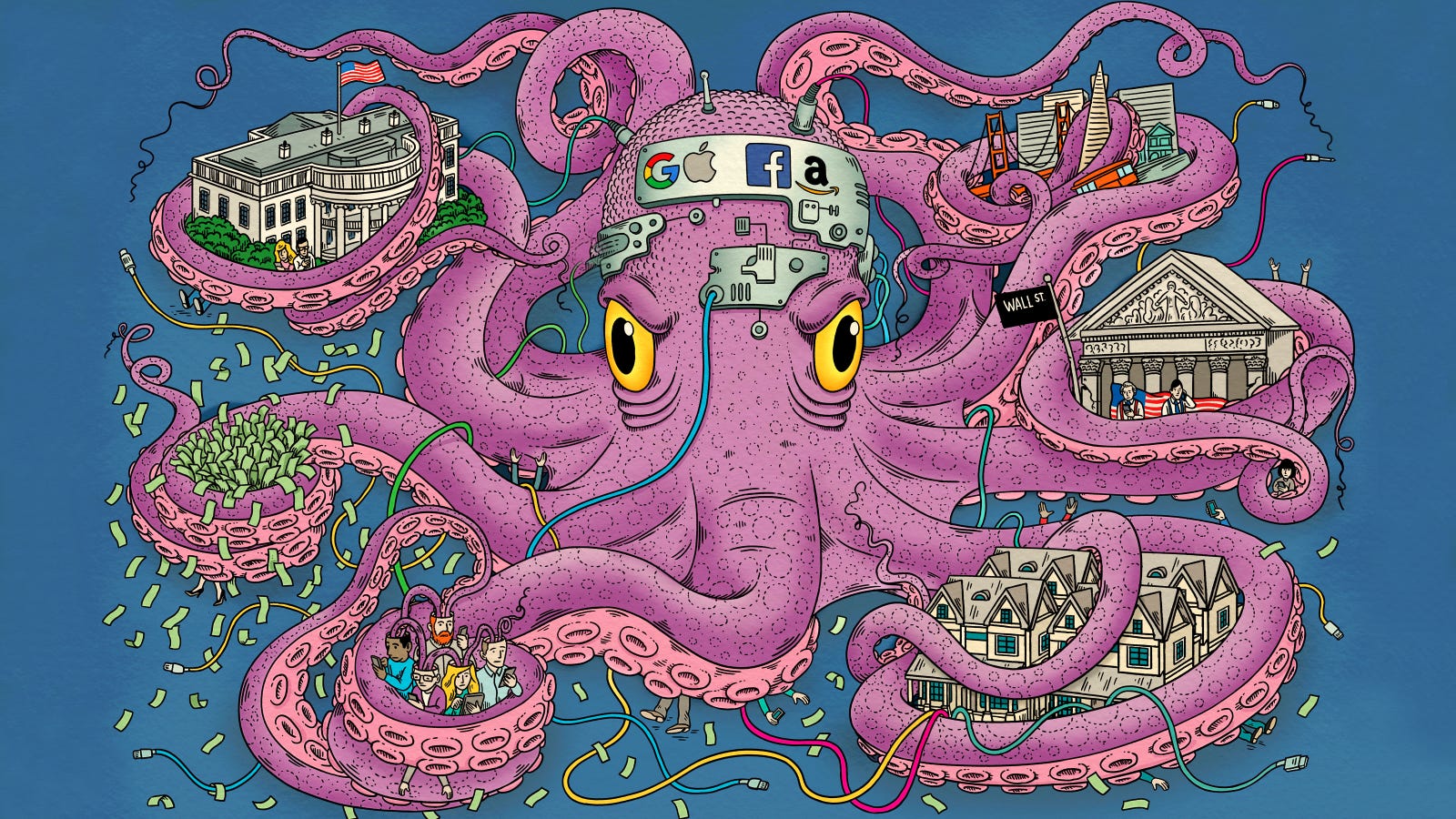 I've benefited enormously from big tech. Prophet, the consulting firm I cofounded in 1992, helped companies navigate a new landscape being reshaped by Google. Red Envelope, the upscale e-commerce company I cofounded in 1997, never would have made it out of the crib if Amazon hadn't ignited the market's interest in e-commerce. More recently, L2, which I founded in 2010, was born from the mobile and social waves as companies needed a way to benchmark their performance on new platforms.



The benefits of big tech have accrued for me on another level as well. In my investment portfolio, the appreciation of Amazon and Apple stock restored economic security to my household after being run over in the Great Recession. Finally, Amazon is now the largest recruiter of students from the brand-strategy and digital-marketing courses I teach at NYU Stern School of Business. These firms have been great partners, clients, investments, and recruiters. And the sum of two decades of experience with, and study of, these companies leads me to a singular conclusion: It's time to break up big tech.




Over the past decade, Amazon, Apple, Facebook, and Google—or, as I call them, "the Four"—have aggregated more economic value and influence than nearly any other commercial entity in history. Together, they have a market capitalization of $2.8 trillion (the GDP of France), a staggering 24 percent share of the S&P 500 Top 50, close to the value of every stock traded on the Nasdaq in 2001.
How big are they? Consider that Amazon, with a market cap of $591 billion, is worth more to the stock market than Walmart, Costco, T. J. Maxx, Target, Ross, Best Buy, Ulta, Kohl's, Nordstrom, Macy's, Bed Bath & Beyond, Saks/Lord & Taylor, Dillard's, JCPenney, and Sears combined.
Meanwhile, Facebook and Google (now known as Alphabet) are together worth $1.3 trillion. You could merge the world's top five advertising agencies (WPP, Omnicom, Publicis, IPG, and Dentsu) with five major media companies (Disney, Time Warner, 21st Century Fox, CBS, and Viacom) and still need to add five major communications companies (AT&T, Verizon, Comcast, Charter, and Dish) to get only 90 percent of what Google and Facebook are worth together.




And what of Apple? With a market cap of nearly $900 billion, Apple is the most valuable public company. Even more remarkable is that the company registers profit margins of 32 percent, closer to luxury brands Hermès (35 percent) and Ferrari (29 percent) than peers in electronics. In 2016, Apple brought in $46 billion in profits, a haul larger than that of any other American company, including JPMorgan Chase, Johnson & Johnson, and Wells Fargo. What's more, Apple's profits were greater than the revenues of either Coca- Cola or Facebook. This quarter, it will clock nearly twice the profits that Amazon has produced in its history.




The Four's wealth and influence are staggering. How did we get here?

As I wrote in my book, The Four, the only way to build a company with the dominance and mass influence of Google, Amazon, Facebook, and Apple is to appeal to a core human organ that makes adoption of the platform instinctive.




GOOGLE: MIND-ALTERING

Our brains are sophisticated enough to ask very complex questions but not sophisticated enough to answer them. Since Homo sapiens emerged from caves, we've relied on prayer to address that gap: We lift our gaze to the heavens, send up a question, and wait for a response from a more intelligent being. "Will my kid be all right?" "Who might attack us?"




As Western nations become wealthier, organized religion plays a smaller role in our lives. But the void between questions and answers remains, creating an opportunity. As more and more people become alienated from traditional religion, we look to Google as our immediate, all-knowing oracle of answers from trivial to profound. Google is our modern-day god. Google appeals to the brain, offering knowledge to everyone, regardless of background or education level. If you have a smartphone or an Internet connection, your prayers will always be answered: "Will my kid be all right?" "Symptoms and treatment of croup. . ." "Who might attack us?" "Nations with active nuclear-weapons programs . . ."




Think back on every fear, every hope, every desire you've confessed to Google's search box and then ask yourself: Is there any entity you've trusted more with your secrets? Does anybody know you better than Google?




FACEBOOK: THE HEART OF THE MATTER

Facebook appeals to the heart. Feeling loved is the key to well-being. Studies of kids in Romanian orphanages who had stunted physical and mental development found that the delay was due not to poor nutrition, as suspected, but to lack of human affection. Yet one of the traits of our species is that we need to love nearly as much as we need to be loved. Susan Pinker, a developmental psychologist, studied the Italian island of Sardinia, where centenarians are six times as common as they are on mainland Italy and ten times as common as in North America. Pinker discovered that among genetic and lifestyle factors, the Sardinians' emphasis on close personal relationships and face-to-face interactions is the key to their superlongevity. Other studies have also found that the deciding factor in longevity isn't genetics but lifestyle, especially the strength of our social bonds.




Facebook gives its 2.1 billion monthly active users tools to fuel our need to love others. It's satisfying to rediscover someone we went to high school with. It's good to know we can keep in touch with friends who move away. It takes minutes, with a "like" on a baby pic or a brief comment on a friend's heartfelt post, to reinforce friendships and family relationships that are important to us....
HT:
the ProMarket blog
at the University of Chicago's Booth School of Business