As noted in
a 2015 post
:
Should Tesla experience what Titanic enthusiasts were calling a "crash floe" problem everyone knows Elon has already prepared one alternative future for himself via Space-X:...


***

...But what many may not remember is that a couple years ago he secured a second, more prosaic, if that's the word, escape vehicle:
James Bond's Lotus Esprit Submarine Purchased by Elon Musk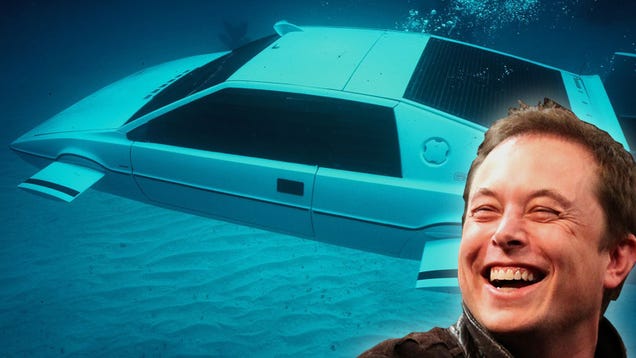 The sub is electrically powered,
of course.
And the headline story from Barron's Penta, May 3:
Aston Martin, in collaboration with Triton Submarines, has unveiled the design for its first personal submarine.
Project Neptune, as the model is called, will be able hold three people and go more than 1,600 feet below the surface, according to Patrick Lahey, co-founder and president of Triton. The sub can operate between six and eight hours on a two-hour charge and reach speeds of more than five knots.

The vehicle, introduced Wednesday, is intended to be an accoutrement to a yacht, either to be stored onboard or on a companion vehicle. Lahey says that the personal submarine makes sense for a yacht owner, who is already passionate about the ocean. "You become an explorer," he tells Penta of the submarine experience.

Lahey estimates the base price of the sub will be between US$4 million and US$4.5 million, with customization options that could, but would not necessarily, drive the cost up. He says that a model or portion of a model is expected to be ready for viewing by the end of the year, but buyers can already start placing orders....MORE
Previously in branding:
December, 2016
"Now You Can Cruise Up To Your Aston Martin Condo In Your Aston Martin Powerboat"
Besides putting the name on stuff, they still make cars:
July 2016
UPDATED--"Aston Martin and Red Bull AM-RB 001 Hypercar Due Today"
Update:
Aston Martin Live Unveilling
About a half hour from now. So far all we have for pricing is "between £2 and £3"
— Roy Kleijwegt (@roykleijwegt) July 5, 2016