From Fortune:
It's been a rough couple of days for President Donald Trump's former campaign manager Paul Manafort, the subject of a federal indictment alleging tax fraud and money laundering.

Now, besides all those pesky conspiracy charges, it seems that Manafort is also bad at online security.

Two security researchers discovered Monday that Manafort may have used the password "bond007" to access his former Adobe and Dropbox online storage accounts, as tech publication Motherboard notes.

The researchers discovered the password—a reference to the fictional spy James Bond—by first obtaining Manafort's email address from hacked text messages from his daughter's smartphone. Those messages were released in March to the dark web, the tangle of encrypted networks where people can trade information or communicate outside of the public view....MORE
In happier 007 stories, here's the gold typewriter Ian Fleming bought for $174 to celebrate the completion of
Casino Royale
: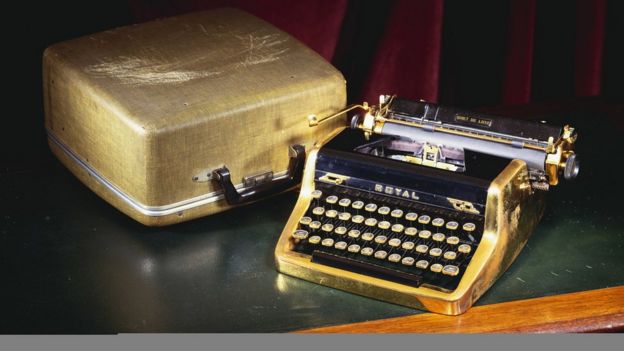 Christie's hammered it down
as Lot no 122 at Sale 6837 Modern 1st Editions & Autograph Letters 5 May 1995, London, South Kensington
IAN LANCASTER FLEMING (1908-64)

Price realised

GBP 55,750

Estimate

GBP 5,000 - GBP 8,000


IAN LANCASTER FLEMING (1908-64)
A Royal Quiet De Luxe portable typewriter, circa 1952, with gold-plated body and fittings, four-row keyboard, 11 x 11 x 6in., in composition carrying case, the attached paper tag with printed address: "The Pantechnicon, Heathfield Terrace" and manuscript inscription: "Mrs I. Fleming 4, 23-2-73."
The machine was also featured in
Christie's 250th anniversary retrospective
(go ahead and click, Christie's ads will follow you around the internet rather than something from Amazon)
Here's Bloomsbury Publishing's blurb for their book, The Man With The Golden Typewriter:
On 16 August 1952, Ian Fleming wrote to his wife, Ann, 'My love, This is only a tiny letter to try out my new typewriter and to see if it will write golden words since it is made of gold'. He had bought the gold-plated typewriter as a present to himself for finishing his first novel, Casino Royale. It marked in glamorous style the arrival of James Bond, agent 007, and the start of a career that saw Fleming become one of the world's most celebrated thriller writers. And he did write golden words. Before his death in 1964 he produced fourteen bestselling Bond books, two works of non-fiction and the famous children's story Chitty-Chitty-Bang-Bang.
The
Guardian noted
:
Y

es, he had a gold-plated typewriter, which he bought to celebrate the completion of Casino Royale, the first James Bond novel. "His literary acquaintances considered it the height of vulgarity," writes Fergus Fleming, his nephew....