From Bloomberg Businessweek:
Look Inside the Most Expensive Hous
e on Earth
An exclusive tour of Villa Les Cèdres, a 187-year-old mansion now for sale along the coast of Saint-Jean-Cap-Ferrat.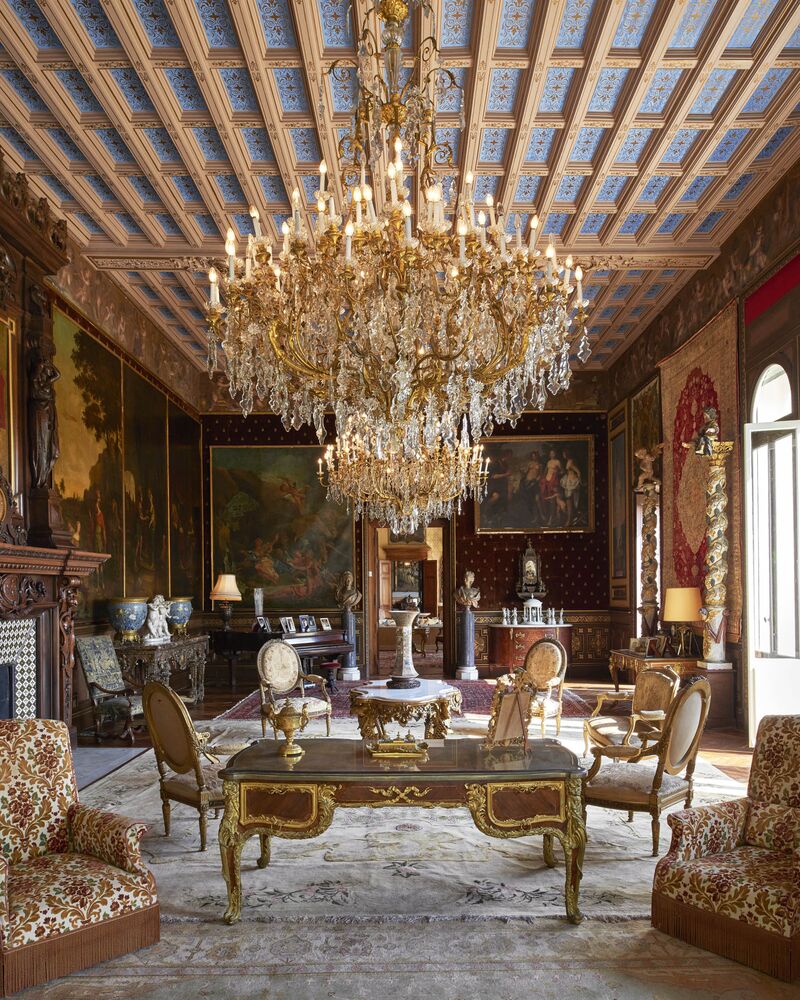 A living room at Villa Les Cèdres.
The South of France has been home to a revolving door of the superrich for the past century. As their fates rose, industrialists, princes, and bankers built palaces along the Mediterranean, and as they fell—first the Russian aristocracy, Americans after the 1929 stock market crash, then much of the European upper class after World War II—they sold them to the world's next crop of newly wealthy.
Now the owner of Villa Les Cèdres, a 187-year-old, 18,000-square-foot, 14-bedroom mansion set on 35 acres, hopes that its property will be the next to pass from old money to new. With a list price of €350 million ($410 million), the owner, the Italian distiller Davide Campari-Milano SpA, is betting that the house's combination of history, luxury, and a prime location along the coast of Saint-Jean-Cap-Ferrat will be enough to make it the most expensive residential sale in history.

Les Cèdres was built in 1830 and bought in 1850 by the mayor of Villefranche-sur-Mer, when it operated as an olive tree farm. (There are olive trees more than 300 years old on the grounds.) The mayor's descendants sold the property to the Belgian King Leopold II in 1904, who, made stupendously rich by his exploitation of mineral resources and rubber trees in the Congo Free State (now the Democratic Republic of Congo), expanded the gardens that still surround the home.

The gates of the villa open to a long, winding path, flanked by towering palms and the cedar trees (cèdres in French) that give the house its name. A bronze statue of Athena, draped with a marble tunic, stands guard at the front entrance. Inside, the vibe is decadent and slightly weathered, consistent with the estate's Belle Epoque heyday: grand sitting rooms, chandeliers, French doors, and floor-to-ceiling 19th century portraits in ornate frames. A wood-paneled library holds 3,000 books on flora and naturalism, including a 1640 edition of a botanical codex worth several hundred thousand euros. (The furnishings can also be bought with the home.)

In 1924, 15 years after Leopold's death, Villa Les Cèdres was acquired by the Marnier-Lapostolle family, industrialists best known for producing Grand Marnier liqueur, a blend of cognac and triple sec. For 80 years the family cultivated the exotic plants that fill the manicured grounds. According to chief gardener and conservationist Marc Teissier, it was in the orchards near the home that the family harvested bigarades, the bitter oranges used to flavor Grand Marnier.

Les Cèdres remained in the Marnier-Lapostolle family until 2016, when Campari acquired Société des Produits Marnier Lapostolle (SPML), Grand Marnier's parent company. Confronted with a piece of property that could be worth 20 percent of its gross 2016 sales, Campari almost immediately put the mansion on the market through the real estate agent Savills....MUCH MORE
Businessweek has some nice pictures but for a pic of the neighborhood here's
the Hindu
: